This is the first quarterly report of the Italian accounting firm that certifies its reserves with which it has just signed an agreement.
The company's holdings of US Treasuries also fell from March to June.
Tether CTO Paolo Ardoino said the company was committed to transparency.
The stablecoin Tether (USDT) announced a decrease in its reserves during the second quarter of the year. The company reported that until June its reserves were 66,000 million dollars, compared to the USD 82,400 that it stored at the end of March.
Stablecoin Tether reserves were worth $66 billion in June 2022 fines, up from $82.4 billion in March fines, the company said in a statement released Friday.
Holdings of US Treasury bonds held by the company also fell from March to June. The drop recorded during the period was USD 28.9 billion, in contrast to USD 39.2 billion in the first quarter, according to what was reported by BDO Italia, the company that certifies Tether reserves.
On the other hand, the company behind the world's largest stablecoin cut $8.4 million in commercial paper and certificates of deposit holdings from $20.1 million.
Tether Holding Ltd. has just signed an agreement with an international accounting firm for the certification of its reserves. With this decision, the company seeks to give more transparency to its movements.
This is the first report published by BDO Italia. Tether's commitment is to issue a quarterly report on its reserves to prevent the spread of false news on this matter. The company expects to move towards monthly reports, according to the statement.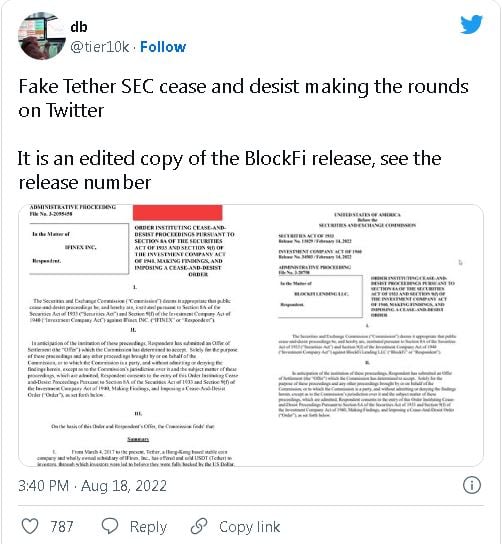 A forged document recently circulated on the Internet according to which the SEC accused Tether of selling securities and therefore sanctioned the company.
It was actually fake news, as demonstrated on Twitter through an anonymous profile. The SEC document was altered and posted online.
However, the spread of the false document caused a small loss on Thursday, August 18, for USDT, although it managed to recover its parity with the dollar a few hours later.
"We are committed to serving the fast-growing cryptocurrency market as the strongest stable asset in the Web3 economy," said Tether CTO Paolo Ardoino.
He added that the company was committed to transparency. "The utility of Tether has grown beyond being just a tool for quickly moving in and out of trading positions, and therefore it is mission-critical for us to scale alongside the peer-to-peer and payments markets."
Tether has exposed a conspiracy against it through a campaign of rumors and fake news. So far the company has shown solidity, despite the harsh criticism against it.