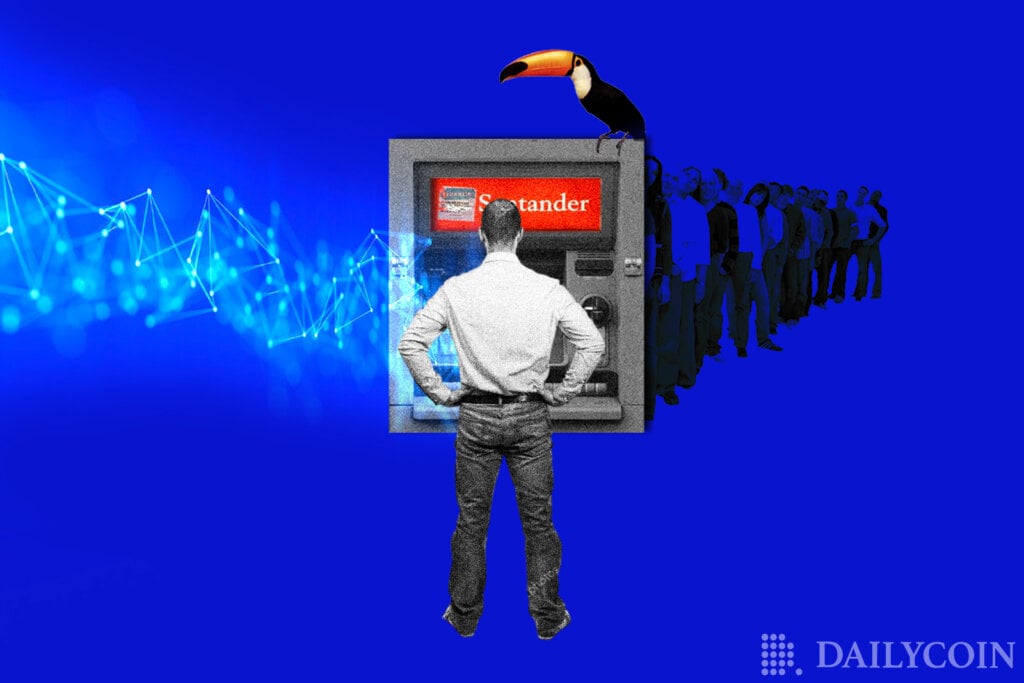 Santander is planning to offer crypto trading to over 55 million customers in Brazil.
The largest private bank in Brazil, Itaú Unibanco, is developing plans to launch a fiat-to-crypto platform.
The country's largest digital bank, Nubank has reached the milestone of 1M users just a month after its launch.
Spanish banking giant Santander is planning to offer crypto trading services in Brazil. As announced by Santander Brazil CEO Mario Leao, the changes are expected to go into effect within the next couple of months.
JUST IN: $167 billion Santander Bank Brazil to offer #Bitcoin trading to its 55 million customers

— Bitcoin Magazine (@BitcoinMagazine) July 29, 2022
Santander Acknowledges That Crypto is Here to Stay
According to Leao, the decision to enter the crypto world "is simply a vision that our client has demand for this type of asset, so we have to find the most correct and most educational way to do it". One of the largest banks in Europe, Santander now looks set to offer crypto trading to its more than 55 million customers in Brazil.
This is not Santander's first foray into crypto in Latin America, as the bank previously made tokenized commodities available for the farmers of Argentina. The event was carried out in partnership with Agrotoken, which has the vision of bringing Argentinian farmers into the Web 3.0 purview.
Brazil Sees a Dramatic Increase in Demand for Crypto
As the largest country in both Latin America and South America, the country's crypto prospects have a large audience. Interest in crypto is especially high due to the levels of social inequality in the nation, which often makes headlines in both local and global media. Reportedly, as many as 214 million Brazilian citizens are unbanked, and crypto could help to tackle the country's social issues.
Nubank, the biggest digital bank in the country, has put facilities in place that allow its 50 million customers in the region to buy the leading two digital assets: Bitcoin (BTC) and Ethereum (ETH). The company invests 1% of profits made from the venture directly to Bitcoin (BTC).
The company's plans have seemingly gone better than expected, with the 'Nucrypto' platform from Nubank reaching the milestone of 1 million users just one month after its initial launch. Putting the achievement in perspective, representatives of the company revealed that the milestone was only projected to be reached after a year in operation.
In just 1 month, Nubank in Brazil has over 1 million active crypto users after it launched its #bitcoin and crypto trading platform.

— Eric Klein (@itsericklein) July 27, 2022
Other big players in the industry, like PicPay, are beginning to enter the Brazilian Web 3.0 market. PicPay themselves are working on a crypto platform that would include a new stablecoin native to the PicPay ecosystem, but tied to the Brazilian real.
Finally, with both of Brazil's largest private bank Itau Unibanco, and the biggest ecommerce platform Mercado Libre giving rypto products and features the green light, Brazil is well on its way towards establishing itself as one of the largest crypto hubs in Latin America, if not the world.
There has been an uptrend of traditional finance institutions working to develop crypto features. With Latin America proving to be extremely crypto friendly, it is realistic to assume that many of the new features will be tested there first.