Solana-based NFT collection 'ABC' has been the most traded collection of the past 24 hours, beating the Ethereum-based 'Otherdeed', and Yuga Labs' 'Bored Ape Yacht Club', which trailed in second and third respectively.
According to cryptoslam.io, in the span of a week, the 'ABC' collection has jumped from 9th in terms of sales, to first. At the time of writing, the total ABC sales come in at a value of $2,139,047, having recorded a 94.11% increase in the past 24 hours.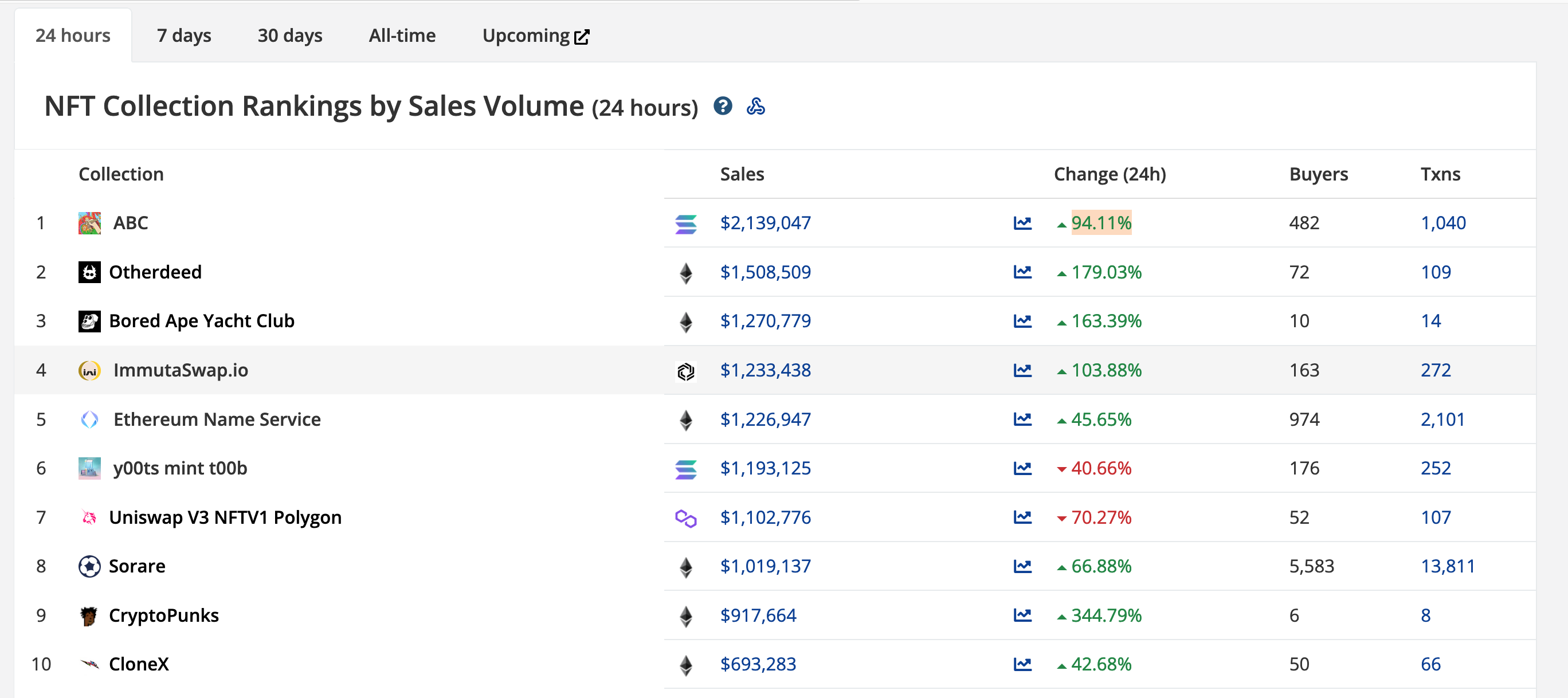 Mysterious NFT Collection
ABC isn't a project, it's just Art that I resonate with as I always miss the time when we are kids.

Things are more simple when we are kids, I miss it, I wanna do something to bring me closer to it.

This is not a typical project, there is no company or team working behind it.

— HGE.SOL (@HGESOL) August 22, 2022
The ABC, AKA the 'Abracadabra' NFT collection, consists of 10K immutable NFTs. The description states that the collection was "made to remind you of how fun things were when we were kids, before growing up – let's never stop having fun!"
The collection initially caught the community's attention for its unique approach. The creator, who goes by the nickname "HGE.SOL", stated that the set has 0% royalties, and no official rarity. Interestingly, the creator does not seem to use Discord, Twitter, launchpads, minting, or bots.
Citing the tweet, not only does the author not have a team behind the NFT project, but he doesn't even refer to it as a "project" at all, and has even tried to discourage investors from buying into it. Despite that, the collection has kicked off, finding huge support among the community.
Remember #ABC is only an immutable ART that you should own only if it makes you happy!

The rest of everything is cherry on top, you should not calculate the value of #ABC based on what builders are building towards it. #ABC is something I hope collectors enjoy collecting.

— HGE.SOL (@HGESOL) September 6, 2022
HGE.SOL is an NFT collector and a sizable whale, holding a range of NFTs throughout the Solana and Ethereum Networks.
To expand on the mystery of the ABC collection, HGE.SOL set up a quest on the project's Twitter account, sharing an image that the community figured out quite quickly. The answer was that the ABC collection was introducing the HadeSwap platform—an Automated Market Maker (AMM) for NFTs that would facilitate the creation of NFT liquidity pools.
Can you figure it out? pic.twitter.com/j9nQtjYsyW

— HGE.SOL (@HGESOL) August 28, 2022
The Solana blockchain remains investors' 2nd choice for NFTs, behind Ethereum, while Polygon ranks 3rd. According to data from cryptoslam.io, over the past 24 hours NFT sales volumes on the Ethereum blockchain increased by 29.27%, and 14.29% on Solana, while on the other hand, Polygon's dropped by an astonishing 50%.
Solana's network has experienced a variety of issues in recent months, including attacks, congestion, and stoppages, all of which have hampered the performance of its blockchain.
Solana (SOL) is the second largest blockchain for NFTs. Solana has made itself a favorite among NFT projects due to the fact that it offers far lower carbon costs and gas fees than Ethereum.