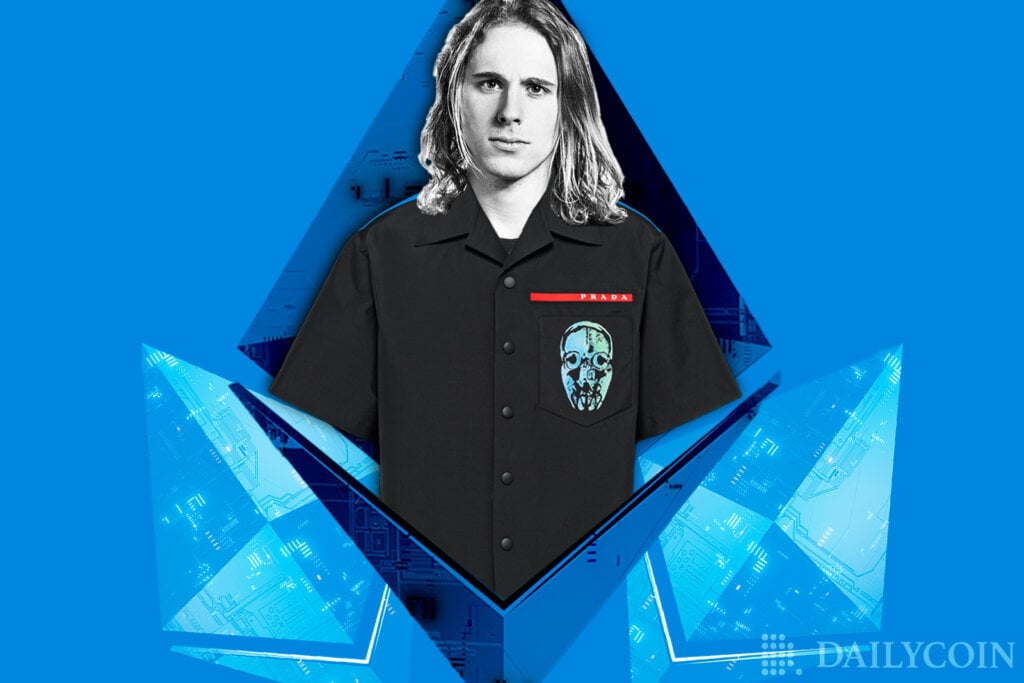 Fashion powerhouse Prada announced they will release a 100 NFT collection in collaboration with the artist Cassius Hirst. The collection of black and white gender-neutral t-shirts was released physically in 2019, and the fresh NFT collection serves as a bonus.
A Perfect Balance Between Web3 and the Real World?
Prada comes into the NFT game with an unusual approach. Each of the NFTs are supposed to complement the actual t-shirts, and the NFTs will be airdropped on June 2nd. According to the official website of the Pradasphere project, "Each Timecapsule drop will be linked to both a gender-neutral physical product and a gifted NFT, a GIF of the capsule video which represents the digital version of the physical item."
Cassius Hirst is known for his signature mask and brain scan designs, and his new collaboration with Prada should remind people of the importance of "unity and togetherness." The Prada Timecapsule project also has been running since 2019 and presents a new and exclusive item every Thursday. Indeed, it is as exclusive as it gets, as every item is only available for purchase for 24 hours.
Prada Chooses an Opposite Directive from Gucci
Earlier, Gucci announced their entrance into the Web3 world, as well as a new NFT collection SUPERPLASTIC: SUPERGUCCI. However, it seems that while Gucci attracts crypto and Web3 enthusiasts, gamers, and generally the tech-savvy population, Prada chose a different approach. The loyal customers of Prada are not necessarily as interested in NFTs, so the luxury fashion giant decided to tie the freshly minted NFTs to physical goods, thus evoking excitement in NFTs and blockchain technology for a wider audience. As a result, the forthcoming NFT collection is likely to be priced in fiat currencies rather than crypto.
In contrast to Prada, Gucci gives out physical freebies to NFT owners. A vinyl toy collection is set to drop on June 17th and everyone who bought a SUPERGUCCI NFT has the right to receive one.
Here's a behind the scenes look at @superplastic's creation of the physical vinyl toy in collaboration with @gucci.

The toys will be available to redeem for free to SuperGucci NFT holders. The snapshot will be taken on June 17. pic.twitter.com/uhBZ4LCK7a

— Hypemoon (@Hypemoon) May 27, 2022
Ethereum Bounces Back after Market Crash
Being the most popular NFT blockchain and the second-largest asset in the crypto world, Ethereum (ETH) is expected to have less volatility than most altcoins. Despite falling behind the $1,800 support line, Ethereum (ETH) is back on track and is now trading at $1,961.61. Ethereum is still going through the losses of the crypto market shakedown caused by Terra (LUNA) and Terra (UST) a month ago, as it is 30.7% down from last month. Nonetheless, Ethereum (ETH) managed to cut its losses to just 0.9% in the last 7 days and regained 1% during the last 24 hours.