OKB, the utility token issued by OKX, formerly OKEx, is the best-performing top 100 crypto of the week, gaining 2.1% in a catastrophic market.
OKX announced that it had burnt an equivalent of $68 million in OKB, reducing the supply of the token.
The exchange has also integrated Avalanche (AVAX) into its NFT marketplace, now supporting six different chains.
Brazilian OKX users can now purchase the Brazilian real after a partnership with Foxbit, a payment and crypto gateway provider.
OKB is the official token of the OKX, rebranded from the OKEx exchange in January 2022. It is the official global utility token issued by the OK Blockchain Foundation. The token allows users to access the special features on OKX.
The utility token is used on OKX to facilitate spot trading, derivatives trading, and the simultaneous development of several scalable applications. In addition, a layered architecture reduces consensus times, improves scalability, and boosts security.
OKB has been doing its parent company proud through this long bearish streak for the market. So how is OKB performing in the market?
OKB has defied the crypto market trend in a week where Bitcoin and Ethereum have lost 30% and 36%, respectively. With minor rallies in the bearish market, OKB has managed to remain the best-performing top-100 crypto with a marginal 2.1% gain.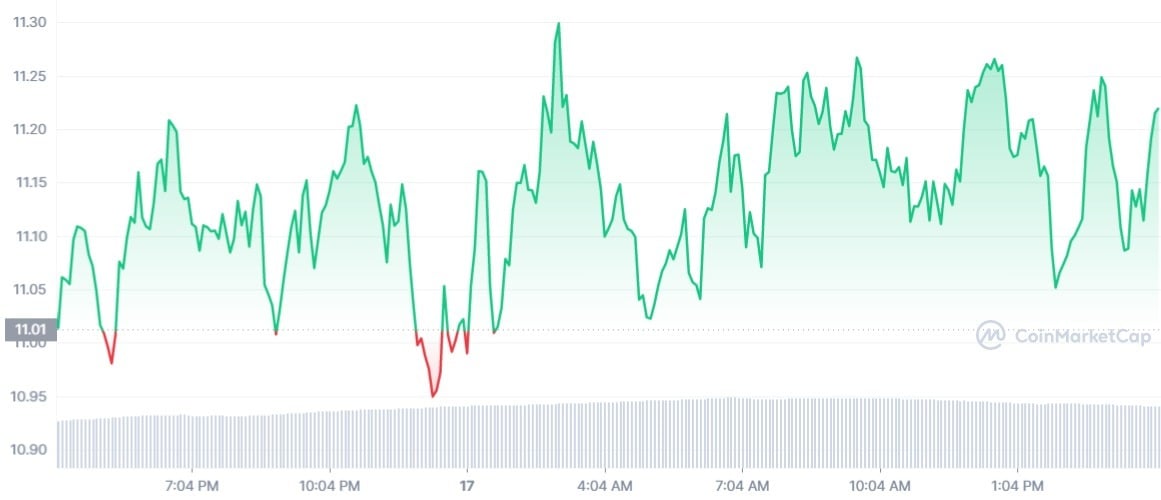 Over the last 24 hours, OKB gained 1.8% to trade at $11.23 after hitting an interday high of $11.30. OKB has traded between $10.94 and $11.30 within the last 24 hours. This has been the trend for OKB over the last seven days.
OKB is ranked as the 6th largest exchange token and 60th of all cryptocurrencies, with a market cap of $3.36 billion.
Recent Developments and Future Events
Taking on the deflationary model to improve the price of OKB, OKX has been burning coins. OKX announced that in its 16th round of Buy-back & Burn, the exchange destroyed a total of 3,755,642.45 OKB, approximately $68 million, between March 1 and May 31.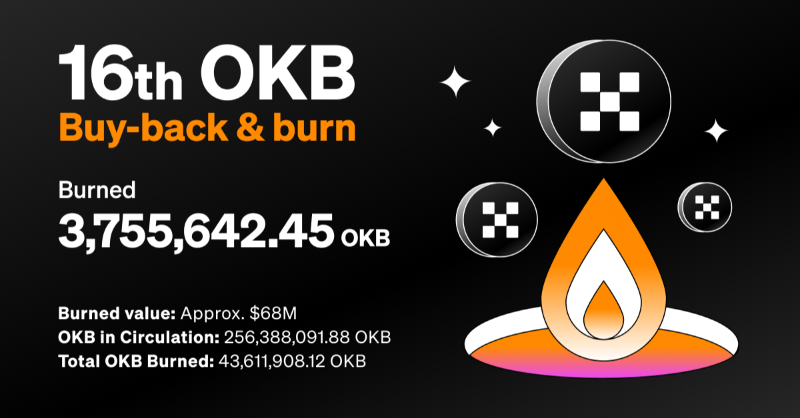 OKX, one of the first exchanges to launch a non-fungible token marketplace in September 2021, continues to expand its support. OKX recently announced an integration of Avalanche (AVAX) NFTs into its marketplace.
The OKX NFT marketplace now supports six major chains – Ethereum, OKC, Immutable X, Binance Smart Chain, Polygon, and Avax. Users can find some of the largest collections of digital art on OKX.
Shortly after supporting the token migration of Saitama, OKX launched support for the USD Coin, the second-biggest stablecoin. USDC opened for spot trading on the exchange with 13 pairs, including XMR/USD, AXS/USDC, XTZ/USD, SUSHI/USDC, and ALGO/USDC.
The USDC pairs are now available for trading as well as on all projects in the OKX ecosystem. In addition, OKX revealed that it would continue growing the USDC pairs and add support for more developments from USD Coin.
OKX has also expanded its services into Brazil by partnering with Foxbit, a payment and crypto gateway provider. Leveraging Foxbit's gateway, Brazilian OKX users can purchase USDT with Brazilian real on the exchange.
In May, OKX announced one of its biggest deals, a multi-year partnership with Formula 1's second-most successful team, McLaren Racing. OKX has become one of the most involved crypto exchanges in sports, especially football. 
From becoming the official crypto exchange partner of the English football team, Manchester City, OKX announced support for the token migration from GAL (Galatasaray Fan Token) to GALFT tokens at a 1:1 ratio.
Despite being one of the best-performing exchange tokens, OKB has not been absolved of criticism.
However, OKB has withstood the criticism of not having as much utility as the likes of BNB and FTX Token and continues to thrive.
OKB has one of the largest communities of all crypto projects, thanks to being the utility token of a top cryptocurrency exchange. However, remaining stable in a bearish market has raised more awareness about OKB.
@CoinCodex tweeted about OKB;
The bears had the upper hand today, as the total #cryptocurrency market cap decreased by -8.30%. #Bitcoin lost -6.77%, while #Ethereum slipped by -14.07%. #OKB is the best performer of the day – $OKB impressed with +0.92% gains.https://t.co/6UFbtMojat

— CoinCodex (@CoinCodex) June 12, 2022
The exchange has also gotten a lot of new fans since listing Saitama. One Twitter user, @shazitariq_15, tweeted;
#OKX is the first exchange with our new logo #SaitamaV2 #WeAreSaitama @ElonMansur @mannythehitman pic.twitter.com/HNlhs77ZI1

— Shazi Tariq ⓈⒶⒾⓉⒶⒶ (@shazitariq_15) June 17, 2022
Another user, @SaitamaDubai, tweeted;
The new #Saitama logo on #OKX is looking more than beautiful #SaitamaWolfPack #SaitaPro #SaitamaV2 pic.twitter.com/Hd0T4tTYwv

— Dubai (@SaitamaDubai) June 16, 2022
OKB is at the center of the OKX ecosystem. As OKX continues to expand its DeFi and web 3 ecosystem, the OKB token will find more use cases and a price boost in the future.