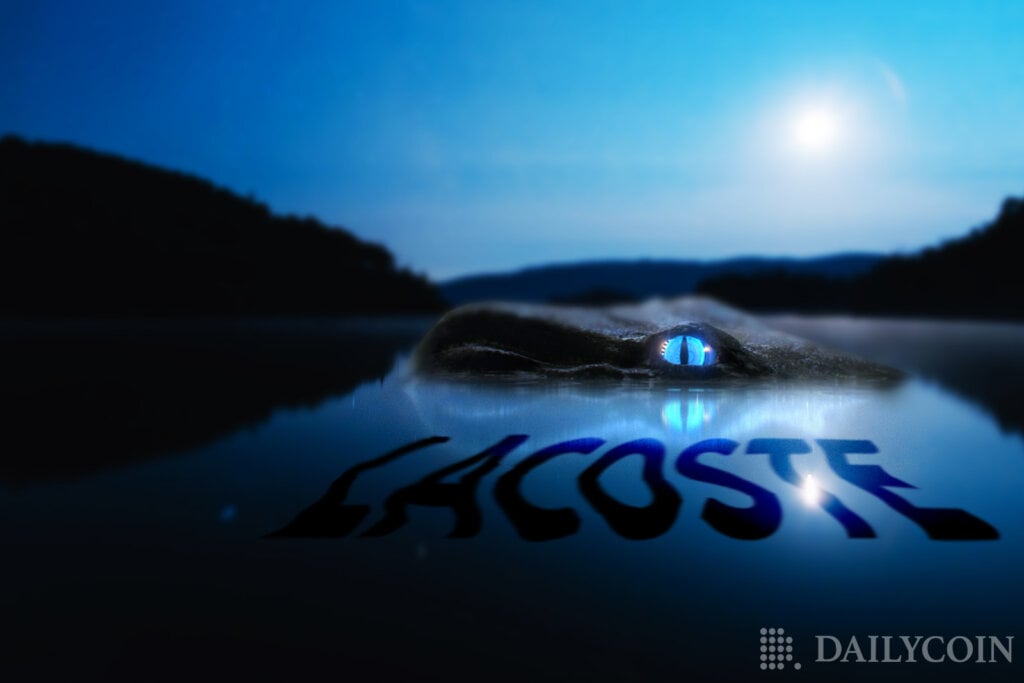 Activewear brands joining the NFT space is definitely fashionable, as Nike, Adidas, Puma, and many other sportswear giants have developed their own Web3 projects since 2021. However, the rising demand for NFTs has also been met with intense competition.
Previously, Nike has hit the jackpot twice, with the success of NIKE X RTFKT CryptoKicks and overall NFT sales worth $185 million in revenue, outrunning second-place Dolce & Gabbana seven times. The Nike NFT run also left behind such established fashion brands as Tiffany, Gucci, and Adidas.
Beyond that, the tenth spot in the Fashion NFT TOP 10, the French fashion brand Lacoste, made a name for themselves in the Web3 space with the UNDW3 NFT project. Lacoste held its first NFT minting event back in June and has won over the interest of social media. As a matter of fact, there were 12.12 million social media mentions in September alone, according to LunarCrush.
From the Deepest Depths of the Metaverse Swamp
According to a recent update on Lacoste's Twitter account, the new UNDW3: The Emerge NFT collection will give birth to 11,212 more NFT crocodiles. Furthermore, the NFT crocodiles will be rocking classic Lacoste accessories with clues in them. The new edition of Lacoste NFTs will drop on OpenSea and will include a Genesis Pass.
The NFTs feature a crocodile in the dark floating slightly above water with various attributes, for example, shiny, navy blue eyes and silver skin. Besides, "There is more to the world than what meets the eye," reads the UNDW3 slogan. Part of it is the fact that Lacoste also offers co-design rights for the NFTs.
"𝘛𝘩𝘦𝘳𝘦 𝘪𝘴 𝘮𝘰𝘳𝘦 𝘵𝘰 𝘵𝘩𝘦 𝘸𝘰𝘳𝘭𝘥 𝘵𝘩𝘢𝘯 𝘸𝘩𝘢𝘵 𝘮𝘦𝘦𝘵𝘴 𝘵𝘩𝘦 𝘦𝘺𝘦."

Indeed. That's why the previous months we were #undw3 building the next steps.

We are ready on our side. But are you ready on yours?

Perfect! It's Emerging time! 1/10 pic.twitter.com/NCwN6Vh5hf

— Lacoste (@LACOSTE) September 23, 2022
Scammers on a Crocodile Hunt
In spite of the success of the initial Lacoste UNDW3 NFT edition, the official Twitter account of the French fashion brand sent out a warning to NFT enthusiasts. Apparently, fraudsters tried to impersonate Lacoste and steal the private keys of their crypto wallets.
On the other hand, bad actors are imitating Lacoste's NFT collection on OpenSea. In response to the situation, Lacoste asks NFT enthusiasts to DM on their official Discord channel.
𝐓𝐡𝐢𝐬 𝐧𝐞𝐰 𝐜𝐨𝐥𝐥𝐞𝐜𝐭𝐢𝐨𝐧 𝐢𝐬 𝐧𝐨𝐭 𝐲𝐞𝐭 𝐨𝐧 𝐎𝐩𝐞𝐧𝐒𝐞𝐚.

𝐁𝐞𝐰𝐚𝐫𝐞 𝐨𝐟 𝐬𝐜𝐚𝐦𝐬.

𝐖𝐞 𝐰𝐢𝐥𝐥 𝐧𝐞𝐯𝐞𝐫 𝐜𝐨𝐧𝐭𝐚𝐜𝐭 𝐲𝐨𝐮 𝐝𝐢𝐫𝐞𝐜𝐭𝐥𝐲 𝐨𝐫 𝐚𝐬𝐤 𝐲𝐨𝐮 𝐲𝐨𝐮𝐫 𝐩𝐫𝐢𝐯𝐚𝐭𝐞 𝐤𝐞𝐲. 9/10

— Lacoste (@LACOSTE) September 23, 2022
No official date has been given for the UNDW3: The Emerge NFT collection on OpenSea.
The top fashion NFT brands have collected over $260 million in sales so far in 2022. As it is becoming a large part of the NFT total market cap, the top fashion and sportswear brands are likely to invest in blockchain collaborations.