The Islamic nation is using digital currencies to circumvent trade sanctions imposed by the US government.
Iran's use of cryptocurrencies and smart contracts with allied countries is expected to increase from now on.
Since 2020, Iran has been encouraging Bitcoin mining and trading.
The import request made by the Iranian government this week was confirmed by the Tasnim agency, according to Reuters. This measure was taken by the Islamic Republic to avoid the strong US sanctions that have brought the economy to the brink of paralysis.
Since the imposition of sanctions, Iran has tried to make the most of its thriving crypto industry. This is despite the fact that Bitcoin mining was accused of causing widespread blackouts in the country due to high energy consumption, and the government had to temporarily suspend mining last year.
The first official import order with cryptocurrencies was issued for a value equivalent to 10 million dollars. In this way, the country enters a new phase for the trading of digital assets with the intention of circumventing the rules of the global financial system.
Cryptocurrencies Will Facilitate Trade to Iran
Iran will be able to trade more easily with other countries on which the US has imposed economic and financial sanctions such as Russia and Venezuela. Both countries have a very active cryptocurrency trade.
The Islamic nation has recently signed numerous agreements in the oil and agricultural area with Venezuela. With Russia, it has strong commercial ties and now also in the military field as a supplier of drones and rockets for use in Ukraine.
The semi-official Iranian news agency did not specify which cryptocurrency was used in the trading operation.
"This week, the first official import order registration worth 10 million dollars was successfully completed using cryptocurrency," Alireza Peymanpak, an Iranian official with the Ministry of Industry, Mines and Trade, said on Twitter.
"By the end of September, the use of cryptocurrencies and smart contracts will be widely used in foreign trade with target countries," he added.
The sanctions imposed by the United States include a series of prohibitions on import and export operations in the oil, financial, and maritime trade sectors.
Since 2020, the country has encouraged Bitcoin mining to deal with economic problems generated by the US trade embargo. Miners have found in Iran a cheap source of energy to mine the cryptocurrency.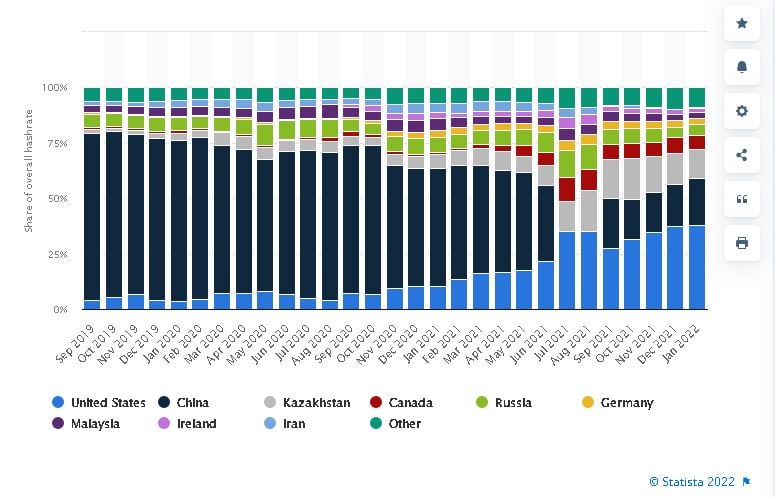 This year, Iran is among the top ten countries with the highest hashrate in the world, according to a study by Statista.
The country of the ayatollahs is using Bitcoin mining as a source of income and a shield against US sanctions.
The European Union, which is trying to revive the 2015 Iran nuclear deal, presented a "final" text this week after indirect talks in Vienna between US and Iranian officials.
The US-Iran nuclear deal was dissolved by then-President Donald Trump in 2018. Since then, US economic sanctions have been reinstated and Iran has reactivated its nuclear program.