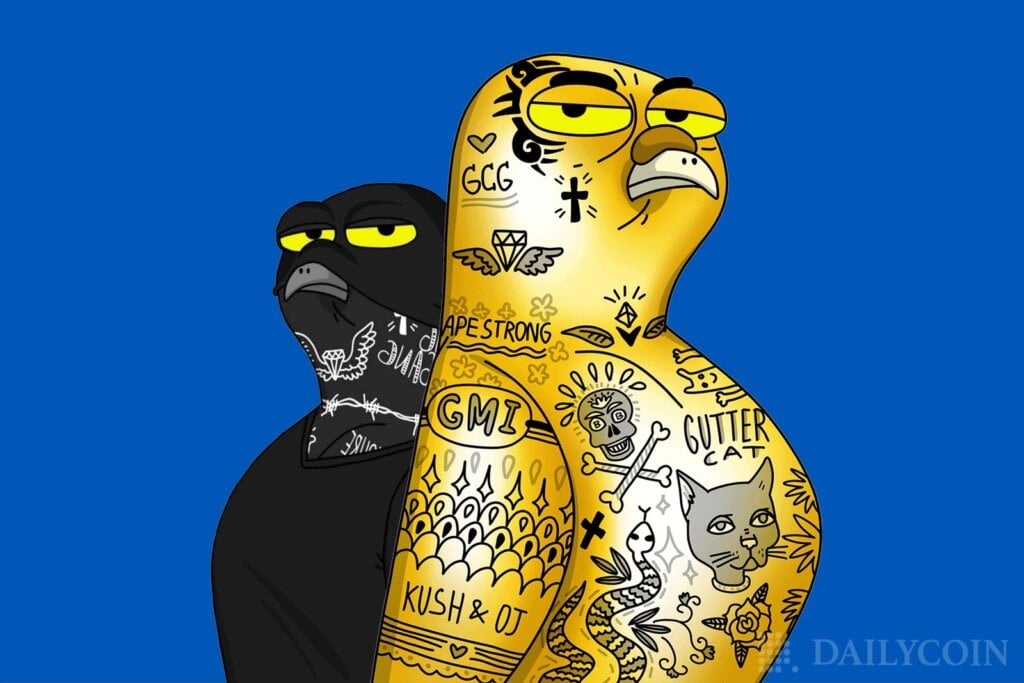 The street-smart digital cats are back at the center of the Web3 urban jungle. The Gutter Cat Gang NFT collection was released in June 2021. Since then, the NFT collection by Gutter Labs has seen plenty of success. The initial 3,000 Gutter Cat NFTs were in high demand, therefore Gutter Labs came up with side projects such as Gutter Rats, Gutter Juice, Gutter Dogs, Gutter Pigeons, and most recently, the Gutter Clones.
it all started w/ a cat$gang $gang pic.twitter.com/nSA7y5FGfq

— KushLion • kushlion.eth (@KushLion69) September 14, 2022
Clones Are the Lowest Tier in The Gang System
The Gutter Clones will serve as the entry tier in the system, and the minting process requires an NFT DNA capsule. To illustrate, to receive a DNA-1 layer clone, the NFT owner must use the DNA-1 Juice and an OG Gutter Cat NFT. Afterwards, the OG Cat is given back to the owner, as well as a freshly minted D1 Gutter Clone. However, the inaugural Dutch auction is over. Right now, NFT enthusiasts can buy a Gutter Clone on a secondary market like OpenSea. At press time, the floor price on OpenSea stands at 0.144 Ethereum (ETH), which converts to $229. In contrast, the floor price for a Gutter Cat is 5.95 Ethereum (ETH).
On the other hand, DNA-2, the advanced level of Gutter Clones NFTs, is made with two D-1 Gutter Clones and a DNA-2 Juice NFT. After the minting, the user receives one D-2 Gutter Clone NFT and one out of two D-1 Gutter Clones, simply because the other clone has to be set aflame during the process. Moreover, Gutter Cats NFT is working on its own token, $GANG. As the project is built in partnership with Horizen Labs, the same company that launched ApeCoin (APE), the Gutter Cat token might see the light of day soon enough.
Gutter Cat Gang floor surged on the buzz around DNA-2 clones and possible $gang distribution. $gang didn't come out and the floor dropped 15-25%$gang is coming soon! Take advantage of the dip.

Remember, the same company (@HorizenLabs) who built $ape is also building $gang

— ShrewdCharlie (@ShrewdCharlie) September 13, 2022
GutterCon 2022 Takes Place This Month in Las Vegas
Made this custom gutter dog for the homie @GregoryCG8 much respect to the @GutterCatGang got many wins on the way
•
•
•#GutterCon22 #GangGang #gutterlabs pic.twitter.com/QiKaEoiuGg

— Roc Sol (@rocsolmiami) September 13, 2022
The Gutter Cats NFT native token ($GANG) was supposed to come out earlier but was postponed. The Gutter Cats NFT floor price plunged by ~25% after the postponement.
The same developers who launched Apecoin (APE) are now working on the Gutter Cats NFT project. As Bored Apes Yacht Club NFT is the most expensive NFT collection of all time, Gutter Cat Gang also has a huge potential.