Huobi said that 90% of FTX Users' Debt (FUD) would burn after an unprecedented surge in price. 
The wild price surge was far beyond what Huobi or DebtDAO expected. 
FUD token burn raises questions about its tokenomics and ownership. 
The controversial FTX Users' Debt (FUD) claims it will help FTX users recover assets. The story has attracted a massive price surge, so much so that its success could be its undoing. A recent burn proposal by its issuer raises questions about the token ownership structure. 
After listing the token on Sunday, the Huobi exchange announced that its issuer would burn 90% of the FUD supply. DebtDAO, the supposed issuer of the FUD token, would burn 18 million tokens. This amounts to 90% of the current token supply. 
The burn event will happen on Tuesday, Feb 7, according to Huobi. During that period, "FUD assets held by users, pending orders, and order placement functions will not be affected," Huobi said. 
The scheduled burning raises questions about FUD token ownership. A token burn is a process in which a token holder sends a number of tokens to a burn wallet, where they are unrecoverable.
Who Owns More Than 90% of FUD? 
The question is: how can anyone send 90% of any tokens to a burn wallet if they don't already hold 90% of that token?
Interestingly, this update did not come from DebtDAO. The unknown organization, with just a Twitter page and a contact email, did not post any updates. Instead, they chose to communicate through Huobi, the exchange that listed the token just one day after it appeared. 
FUD token is only available on the Tron blockchain and the Huobi exchange. Both Tron and Huobi are under the control of the controversial crypto entrepreneur Justin Sun.
Why Burn 90% of FUD Tokens, According to Huobi
Huobi explained that the burn would happen due to the unexpected surge in the token's price. According to issuer DebtDAO, the FTX token would entitle its holders to claims against FTX. 
"As the most cost-effective and prioritized FTX debt on the network, FUD creditors have the first right to assert their claims on FTX debt. DebtDAO will publish the contract or notarized proof of the debt at an appropriate time," DebtDAO wrote. 
Each token would give users the claim to one to five dollars in FTX claims, according to Huobi. The problem is that soon after the Huobi listing, the token jumped as high as $110. FUD is currently trading at $67.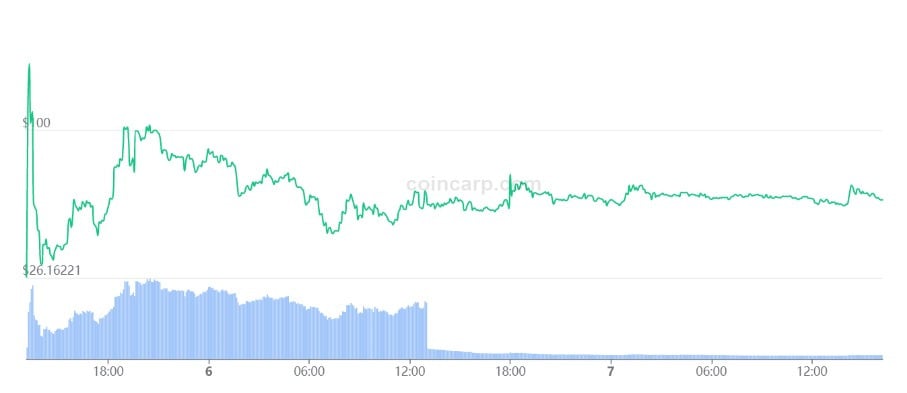 Contrary to what investors might expect, the FUD token did not react that much to the burn news. The token jumped from $63 to $70 before stabilizing at $67. 
The FUD token raises serious questions about the motivations behind its launch and listing.