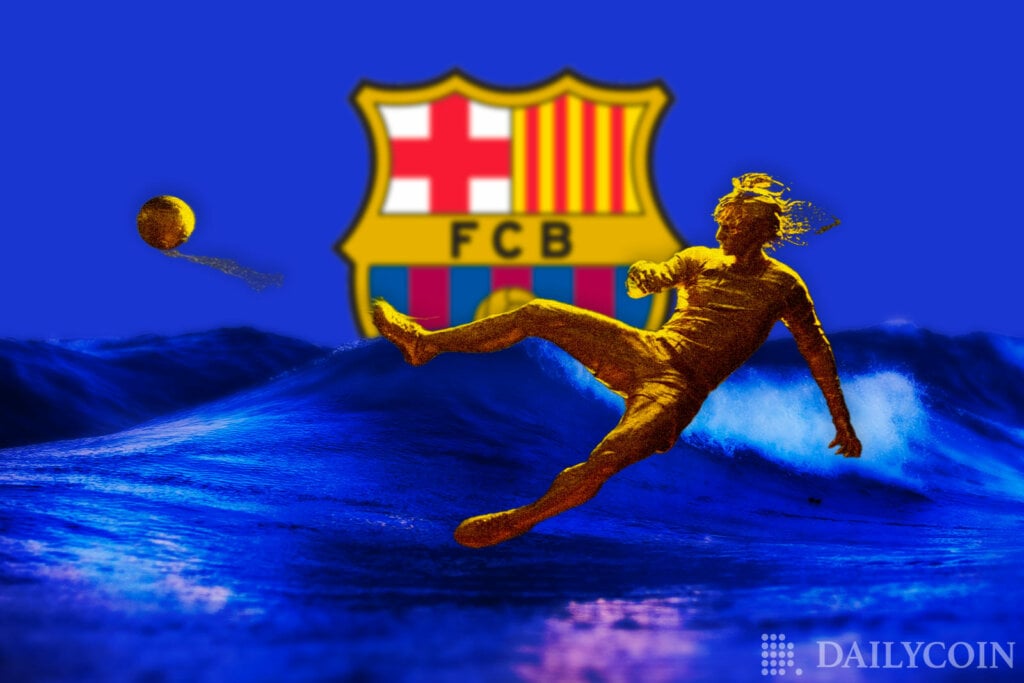 Fans of one of the most established soccer clubs in the world will be delighted to see their favorite team's emblem in the very heart of New York City, Times Square. FC Barcelona has chosen Johan Cruyff, a legendary player who spent five years of his career at Barcelona between 1973 and 1978, for their inaugural NFT. Despite the iconic player's death in 2016, his legacy will now live forever in the realms of Web 3.0.
Here in Times Square for the launch of the first Barça NFT! pic.twitter.com/YhBOzKDLwO

— FC Barcelona (@FCBarcelona) July 28, 2022
Immortal, in a Way, Courtesy of Web 3.0
The magnificent moment captured in Barcelona's NFT displays Cruyff "flying" over the goalkeeper of F.C. Atletico Madrid back in 1973. The almost metaphysical piece of art is set to be sold during an auction in Times Square. The minimum bid is currently set at $120,000, and the NFT will be displayed on the main screen in a golden frame.
Furthermore, the auction, organized by Sotheby's, and will be held both online and in physical form in Times Square NYC. The NFT features the animated graphic of the legendary moment in soccer history, and will be presented alongside 4 other NFTs—still images from the main animated NFT.
The proud owner that claims the NFT will also be in receipt of a number of other perks, including meet & greets before F.C. Barcelona games, exclusive VIP seats, member-only events, hospitality rights, and more. The pass, known as 'Barça Digital Ambassador' will be valid for at least 5 years, and the future owner of the NFT will obtain exclusive access to training camps. For crypto enthusiasts, getting to the pulse of F.C. Barcelona has never been easier.
Barcelona went to Time Square to launch their first ever NFT.

The Johan Cruyff-themed artwork will be auctioned in New York with a starting price of $120k. pic.twitter.com/gCF0KWsFCf

— CBS Sports Golazo (@CBSSportsGolazo) July 29, 2022
9 More F.C. Barcelona NFTs to Come
For those Barca fans that are late to the party, there's no need to worry. The official F.C. Barcelona blog post announced that the NFT, titled 'Immortal, In a Way', will be the inaugural piece of a much larger collection. Moreover, the NFT collection was explained to feature the "historical heritage and club legacy" of F.C. Barcelona. it was further highlighted that every precious moment of F.C. Barcelona's history shall be appreciated separately, and the team has partnered with BCN Visuals for the purpose of bringing each one to life.
Ultimately, the club is looking to create a "cinematic experience" for the storied club's most loyal fans. Of course, a lot of work has been done to make the sports NFT collection a true piece of digital art. Reportedly, 40 of the best visual effects & computer graphics artists from Hollywood have been brought into the project, and the main, cornerstone NFT piece will also come with a soundtrack that features an authentic orchestra, mixed with the emphatic sounds heard from the passionate crowd at Camp Nou. As reported by FC Barcelona, the artists spent over 10,000 hours creating the phenomenal NFT collection, while the statue of Johan Cruyff alone took an additional 1,000 hours.
Sports NFTs are becoming a popular trend, and the rapid growth in collaboration between purveyors of blockchain technology and sports is projected to generate over $2 billion in 2022 alone. With NFTs becoming increasingly mainstream, it will be exciting to see which established sports clubs will set themselves at the forefront of innovation.