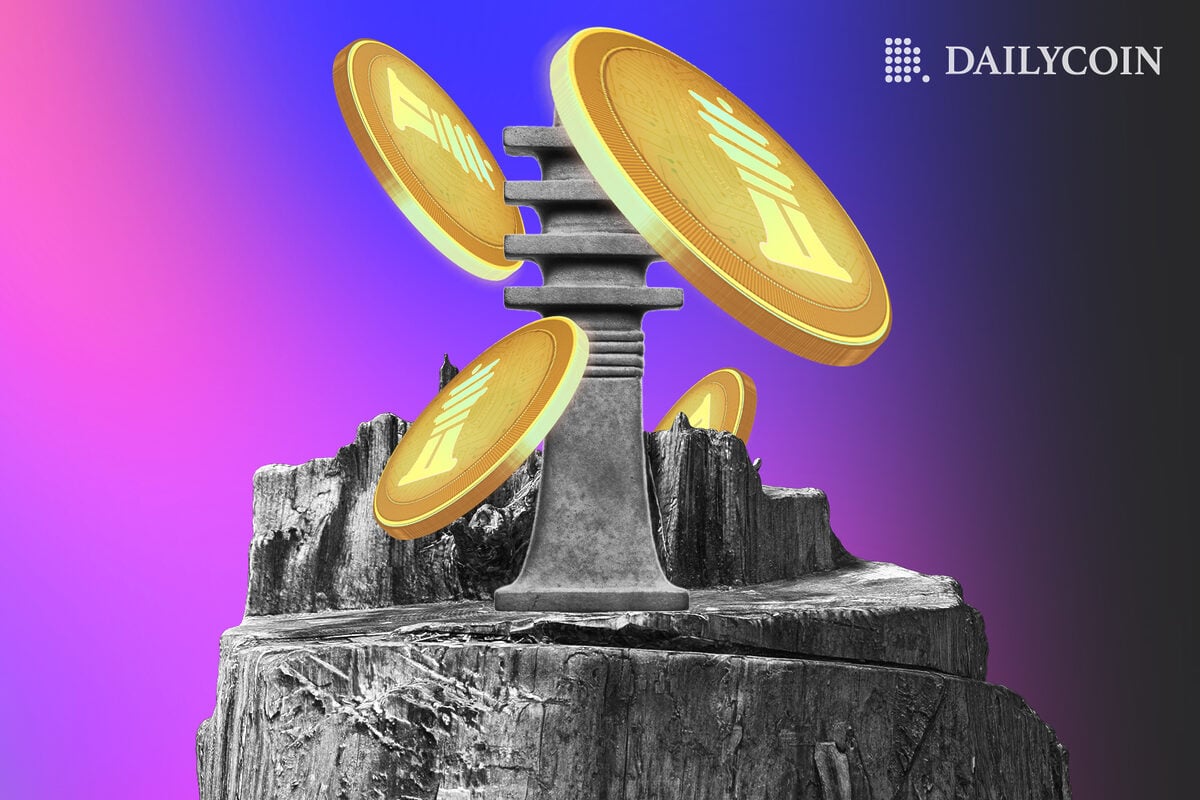 The DJED stablecoin has finally launched on the Cardano blockchain. This is a significant milestone for the Cardano network and is expected to give decentralized finance on Charles Hoskinson's blockchain a much-needed boost.
Regulators are circling Binance USD (BUSD), and Tether's mysterious reserves face ongoing scrutiny. As a result, decentralized stablecoins return to take center stage as a solution against volatility in the cryptocurrency market. 
What exactly is DJED? How does the Cardano ecosystem's native algorithmic stablecoin work?
Most importantly, what kind of measures are in place to protect DeFi users and ADA holders from a catastrophic de-peg? We all remember what happened to the last 'revolutionary decentralized stablecoin. We still witness the devastating effects of the LUNA/UST death spiral.
All your DJED questions, and more, answered:
Why Do We Need Decentralized Stablecoins?
If you've ever looked at a Bitcoin or Ethereum chart, you'll know that the crypto market is volatile. Prices fluctuate massively daily, making them difficult to use as a regular currency. Centralized stablecoins like USDT are cryptocurrencies pegged to fiat currencies like U.S. Dollars, making them far easier to transact with for normal goods and services.
That being said, centralized stablecoins are veiled in mystery. They're far from a safe haven for your portfolio. If Tether's infamous fiat reserves are found to be insolvent, there's a risk that billions of dollars worth of USDT could evaporate overnight. 
Decentralized stablecoins, such as DAI and DJED, have no centralized point of failure. With other stablecoins like BUSD or USDT, users are forced to blindly trust a central entity like Binance or Tether to maintain the coin's value. DJED eliminates this centralized threat to bring greater transparency and deeper liquidity to the Cardano blockchain.
What is DJED?
DJED is the first native stablecoin on the Cardano network. It's fully decentralized, transparent, and community governed. DJED is pegged to the same value as the United States dollar, so in theory, 1 DJED will always equal $1 USD.
The DJED stablecoin project has been in development for over a year. Its formal whitepaper was published in August 2021 by Input Output Global. The DJED protocol's launch date was announced during 2022's Cardano Summit.
DJED aims to provide a decentralized haven for value on the Cardano blockchain, which can be used to complete payments instantly.
Maintaining the Peg: How Does DJED Work?
While other stablecoins like USDT and BUSD are backed by fiat currency, DJED is backed by ADA and SHEN. An algorithmic stablecoin, DJED is supported by a robust smart contract that mints, burns, and exchanges DJED, ADA, and SHEN to perfectly balance their ecosystem.
Source: DJED and SHEN Unique Mechanism Explained
The DJED stability mechanism sounds complex but is very simple. To give a visual representation, imagine a central reserve pool of ADA. Through a smart contract, users mint DJED tokens by sending ADA to the pool. The amount of DJED they mint corresponds to the USD value of the ADA they provided. 
For example: 
If 1 ADA = $0.50, you can mint 50 DJED by sending 100 ADA to the Reserve Pool.
If 1 ADA = $2.00, you can mint 200 DJED by sending 100 ADA to the Reserve Pool.
In the other direction, you can burn DJED to receive the same USD value in ADA tokens. 
This mechanism serves two simple purposes. First, the DJED price is pegged to $1 USD using ADA tokens to maintain stability. Second, ADA tokens locked in the smart contract, or Reserve Pool, increase the TVL (Total Value Locked) of the Cardano blockchain.
As we've seen in the past, this mechanism is not enough to protect the peg. A significant drop in the value of ADA would destabilize the peg and cause a LUNA-esque death spiral. 
How has the DJED team learned from Do Kwon's mistakes? What algorithms have been implemented to safeguard crypto from another catastrophic de-peg?
The Reserve Ratio
Unlike UST, DJED is an overcollateralized stablecoin. That means the reserve pool always contains more assets and greater value than the amount of DJED in circulation. In theory, even if all the DJED in circulation was redeemed for ADA simultaneously, the reserve pool and the DJED: USD peg would remain intact.
Source: Djed.
To be precise, the reserve ratio of pooled assets must always be between 400%-800%. If the reserve ratio of DJED: ADA is below 400%, no more DJED can be minted by sending ADA to the pool. 
If the ADA price fluctuates, another token further supports DJED in the Cardano ecosystem, providing extra reserves to the pool. This is called SHEN, the reserve coin of the stability mechanism. The Shen token stops the reserve ratio from inflating beyond 800%.
SHEN: DJED's Reserve Crypto
SHEN is the reserve coin of the DJED protocol and is incentivized to make the system overcollateralized. Users mint SHEN by providing ADA to the reserve pool and can burn SHEN to receive ADA. SHEN is a tradable asset and is expected to increase in price based on the growth of the DJED protocol.
There are several benefits to holding SHEN. When someone uses the DJED protocol to mint or burn DJED or SHEN tokens, SHEN holders receive a percentage of protocol fees. Moreover, SHEN holders also receive delegation rewards and can stake their tokens in Liquidity farms of Cardano DEXes from additional rewards.
SHEN is burned to receive ADA at a minimum of 1:1. In theory, the price of SHEN will never drop below that of ADA. Better yet, SHEN is correlated to ADA price with an upside multiplier. Its price is calculated based on the equity of the reserve pool divided by the number of circulating SHEN tokens.
DJED Stablecoin Use Cases
The DJED stablecoin is seeing increased adoption across the Cardano ecosystem. It's an alternative banking method and provides users full custody over their assets. This protects them from centralized services like banks that might freeze their assets.
DJED is also used in decentralized finance applications on the Cardano blockchain. Lending markets like Aada Finance have listed DJED in their platform, meaning users can lend or borrow funds using their DJED tokens as collateral. The NMKR protocol has even made it possible to buy Cardano NFTs using DJED.
DJED Future Developments
Future iterations of the DJED stablecoin protocol will continue to expand its capabilities within the Cardano ecosystem. It is expected that, in time, the platform will not only use ADA and SHEN to collateralize support the peg. The DJED roadmap suggests that other cryptocurrencies, like wrapped BTC and wETH, will be used to mint DJED.
What is COTI's Involvement in DJED?
While Input Output Global initially theorized the DJED protocol and stability mechanism, COTI is the official issuer of the DJED platform. The COTI team is responsible for creating the user interface and smart contracts for DJED and will also play a fundamental role in DJED's ongoing development.
On The Flipside
While algorithmic stablecoins are designed to maintain their peg regardless of market conditions, there is no guarantee that 1 DJED will always equal 1 USD. Never forget UST was also considered a haven before its demise.
Why You Should Care
Decentralized stablecoins are one of the best real-world use cases for cryptocurrency. If DJED proves itself a durable and scalable stablecoin, it could see adoption outside crypto.
Moreover, Cardano is one of the largest Layer-1 blockchain networks and is home to a thriving community. If you want to explore the Cardano ecosystem, it's important to understand how its first native decentralized stablecoin works.
FAQs
Can you stake DJED?
Some centralized exchanges like Bitrue have introduced DJED staking. As the DJED protocol continues to grow, more exchanges and DeFi apps are expected to offer DJED staking services.
How does DJED work?
DJED is a cryptocurrency minted by providing ADA to a smart contract reserve pool. You will receive a corresponding amount of DJED in USD value when you provide ADA.
Does Cardano have a Stablecoin?
Yes, DJED is the first native decentralized stablecoin on the Cardano blockchain. DJED was first theorized by Input Output Global and was issued by COTI in 2023.
How will COTI benefit from DJED?
A percentage of the operation fees collected from the DJED protocol are redirected to the COTI treasury. The treasury converts these fees to COTI and distributes them to treasury users as rewards.