Coinbase offered its customers to Convert their USDT to USDC with zero fees
The exchange said USDC was stable and trustworthy
The move comes after the collapse of the Terra-Luna stablecoin
Amid growing concerns over stablecoin reserves, major crypto exchanges are taking steps to prop up their stablecoin ecosystems. This includes efforts to take users from other stablecoins. The latest exchange to do so is Coinbase.
Coinbase, the second largest cryptocurrency exchange by trade volume, issued a statement suggesting customers should convert their Tether (USDT) tokens into USD Coin (USDC). The exchange said it believes that USDC is more stable and trustworthy than Tether.
"Now more than ever, stability and trust are of the utmost importance to customers," Coinbase wrote in a Thursday press release. "However, the events of the past few weeks have put some stablecoins to the test and we've seen a flight to safety."
Coinbase also said it would allow users to convert their Tether to USD Coin with zero fees. This is to reduce the friction of switching for users.
"We believe that USD Coin (USDC) is a trusted and reputable stablecoin, so we're making it more frictionless to switch: starting today we're waiving fees for global retail customers to convert USDT to USDC," the exchange wrote.
What Would a Tether Collapse Look Like?
Stablecoins are a huge part of the total crypto market cap. Although down more than $10 billion since the Terra-Luna crash, the stablecoin ecosystem proved resilient compared to other segments of the crypto space.
The top 10 stablecoins have a combined market capitalization of $152 billion. Moreover, as crypto prices dropped, the share of stablecoins in the combined crypto market cap grew. The top ten stablecoins comprise 17.7% of the $860 billion crypto market cap.
Tether is the biggest player out there. The total value of USDT in circulation accounts for 46% of the stablecoin market. It also makes up 8.16% of the crypto market cap.
The disastrous collapse of Terra (UST) demonstrated just how volatile stablecoin collapses could be. It also shook the public trust in stablecoins, a major segment of the crypto market.
If Tether collapsed, it would be a different story from the Terra-Luna crash. At its height, the UST market cap was $18.75 billion. Tether's market cap is more than three times that, $65 billion. Tether's crash would likely take out many of the biggest players in the crypto space.
Is Coinbase Spreading Tether FUD?
Not everyone in the crypto community welcomed Coinbase's move. Crypto investors noted that Coinbase is one of the companies managing USDC.
The entity currently in charge of USD Coin is Centre Consortium, a joint venture between Coinbase and Circle. Circle is a Goldman Sachs-backed startup that's originally behind USDC.
Some users saw the move as a way to prop up its stablecoin and secure it against potential bank runs.
"Makes me trust USDC a little less," one user wrote, calling the move "desperate" on Coinbase's part.
"Thanks for reminder to swap my USDC for USDT," another user wrote. Others said that Coinbase spread FUD (fear, uncertainty, and doubt) regarding Tether.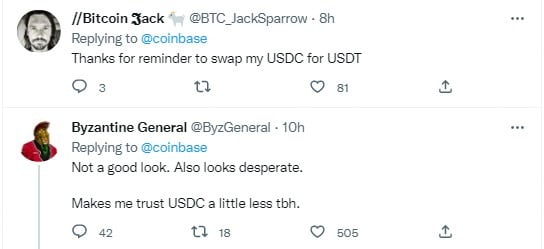 Binance's CZ – 'Tether is a Black Box'
Coinbase's move comes after a similar move by Binance. In September, the largest exchange by trading volume ceased support for USDC and two other stablecoins.
Any users that held these stablecoins on Binance had them auto-converted to BUSD, Binance's own stablecoin.
Back then, many criticized Binance for using its dominant market position to prop up its stablecoin at the expense of others. Binance's CEO Changpeng (CZ) Zhao said the move was just an effort to "consolidate liquidity."
"When people finish trading, and they want to withdraw, they can withdraw USDC and the other stablecoins," CZ said.
The largest exchange said it has no plans to cease support for USDT, the largest stablecoin out there. Its CEO Changpeng (CZ) Zhao did however throw some shade at Tether.
He called Tether a "black box" and said they don't know if the stablecoin will depeg. Binance would not feel comfortable guaranteeing a one-to-one conversion.
"We have a commercial relationship with Circle for converting at a one-to-one peg," CZ explained. "Tether is a black box, and because we don't have the commercial agreement in place, we don't have a channel to convert one to one. We didn't feel comfortable [that it is] always guaranteed a one-to-one conversion," he said.
Coinbase's move doesn't have to indicate that the exchange is nervous about the reserves of its sponsored stablecoin. It can be seen as a business decision to make USDC more competitive, especially after Binance cut support for USDC.
Stablecoins and centralized exchanges currently dominate the crypto ecosystem. Anything they do will have an effect on the entire crypto market and beyond.