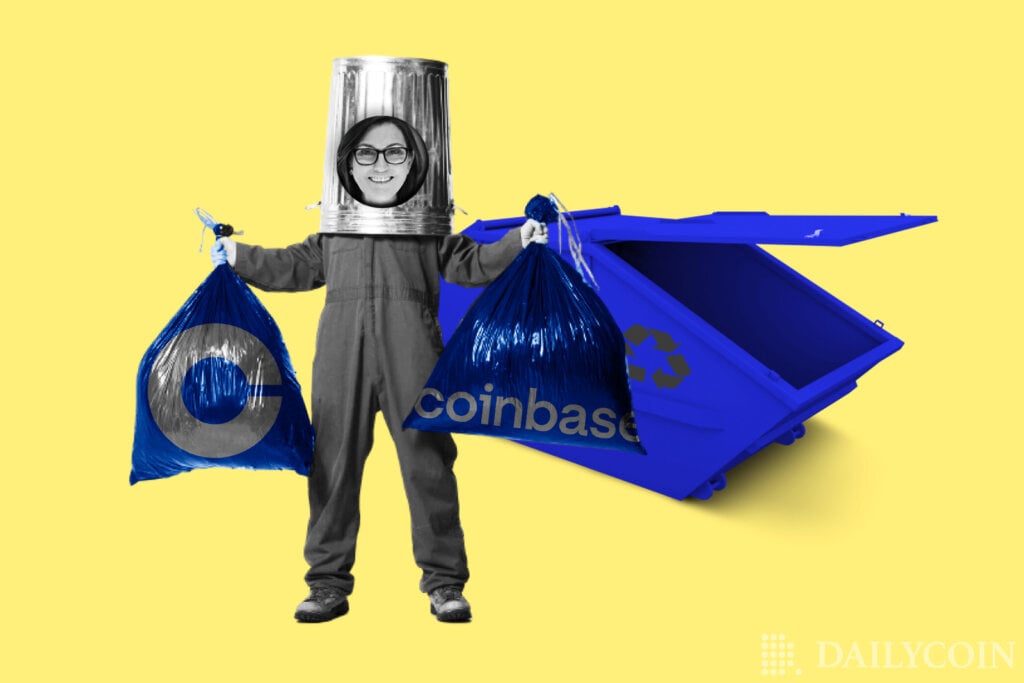 The third largest investor in Coinbase Global, Ark Invest, has sold off over 1.41 million shares, which were valued at $75 million on Tuesday morning. Furthermore, Ark Investment's trademark Ark Innovation ETF also disposed of over 1.13 million shares. This comes just a day after The SEC launched a probe on Coinbase Global, claiming that the crypto platform engaged in illegal security trades.
Funds controlled by Cathie Wood dump Coinbase shares for the first time this year amid reports the largest US crypto exchange is facing a probe https://t.co/TZOkZGFf83

— Bloomberg Markets (@markets) July 27, 2022
The Shares Shrink 5 Times
With the SEC ramping up its crypto scrutiny, it's logical that Coinbase Global's stock would see a 20% plung overnight. At press time, Coinbase Global shares cost $52.93 apiece, just below the $53 price point at which Cathie Wood sold off over a million shares. Ultimately, this represents a monthly drop of 5% for Coinbase, seeing it record its lowest price ever.
Cathie Wood of $ARKK just sold nearly 1.41 million shares of Coinbase, $COIN, at all-time lows of $53.

The average cost average that $ARKK purchased $COIN at was $254.65.

— unusual_whales (@unusual_whales) July 27, 2022
The all-time low share price for Coinbase comes just days after news broke of the first-ever crypto insider case. The SEC has seemingly used the situation as a pretense to dig deeper into Coinbase's trading activities, as the agency labeled 9 of the 25 cryptocurrencies involved in the case as "securities". Unsurprisingly, the claim received firm denials from Coinbase execs & its legal team.
With Coinbase share prices nose-diving, the company has struck back at the SEC's allegations. In response, the top American crypto platform has published a petition demanding that the U.S. Securities and Exchange Commission launch a study into how digital assets should be traded, as "laws from the 1930s don't work on crypto".
A Game-Changing Case for Crypto
What's more, the groundbreaking event of the first-ever crypto insider trading case, and now the SEC's probe will definitely have an impact on crypto. With Coinbase officially requesting that the SEC provide a full legal framework, this could serve to "unlock a new market". However, if the SEC were to gain the upper hand in the lawsuit, the 9 cryptos seen as "securities" by the SEC could lead to massive mass fines.
Interestingly, Coinbase still allows customers to trade in 7 of the 9 cryptocurrencies named in the lawsuit to this day. In relation to the matter, Coinbase's Chief Legal Officer Paul Grewal said "we look forward to engaging with the SEC on the matter." Coinbase's lead attorney also highlighted in the blog post that the SEC had already revised and confirmed the digital assets listed on Coinbase before. "We don't list securities" read Coinbase's stance. To them, it's as simple as that.
I'm happy to say it again and again: we are confident that our rigorous diligence process—a process the SEC has already reviewed—keeps securities off our platform, and we look forward to engaging with the SEC on the matter. A refresher: https://t.co/SaacvrZEiU

— paulgrewal.eth (@iampaulgrewal) July 26, 2022