Bora has defied the bearish trend that has the crypto market under siege, gaining more than 75% in the last two weeks.
Migrating from the Ethereum chain, Bora has launched its chain to solve the problems of defi and blockchain.
Since launching in April, Bora has launched an NFT marketplace and now permits users to mint NFTs on the Bora Chain.
Building up to Q3, Bora will embrace full dApp and defi functionality and launch its first decentralized exchange (DEX) on the Bora chain.
Still a long way from its Zenith, cryptocurrencies still possess inherent flaws, with new projects trying to solve problems perceived in older crypto projects. Bora falls into the former category.
Initially launched on Ethereum Layer2's private blockchain, Bora discovered challenges with lack of integration with the public blockchain, static tokenomics, and a closed-off consensus algorithm. As a result, Bora launched its blockchain, Bora 2.0.
Bora features a high cross-chain interoperability network that combines scalability, reliability, and security for DApps. How has Bora performed since migrating to its blockchain?
First on Bora's list after migrating to its 2.0 chain was a rebranding campaign to bring the project out of Ethereum's shadows. As a result, Bora launched a new website and renewed its social media channels.
BORA has also launched a new white paper detailing its journey to develop its new chain. This modular blockchain can easily be used as an execution layer by decentralized applications (dApps).
The migration to BORA 2.0 was done to create room for accommodating a wide range of game, content, and entertainment-specific demands on blockchain technology.
Since moving to its new chain, Bora has launched its own non-fungible token (NFT) Marketplace. The platform allows users to receive, buy, sell, and trade NFTs with other users.
Shortly after introducing its marketplace, Bora introduced the minting of NFTs on its platform. However, there is a market service fee of 2.5% and a royalty fee (creator fee) for NFTs sold on the Bora marketplace. Multiple projects have launched their NFTs on the Bora market module.
The project is now also receiving attention from dApps. On May 27, Meta Toy DragonZ (MTDZ) announced that it would be onboarding the BORA ecosystem. Gamers will be able to build meta-powered dragons and earn rewards in the Meta Toy World.
At launch, users can trade Meta Toy DragonZ NFTs on the BORA Portal Marketplace. However, they will need to wait until Q3 of 2022 before the MTDZ is launched on the Bora chain.
Still in its early stages, Bora has a lot of development ahead. Before the end of Q2, Bora plans on rolling out its first connected wallet for users and projects building on its blockchain.
Also, in Q2, Bora is working on launching a token issuance module on its blockchain. Using this module, other projects will be able to launch and issue tokens for their respective project.
Q3 will see Bora expand its ecosystem by launching its own decentralized exchange (DEX). Bora will also integrate decentralized finance into the chain and launch a fan token and NFT liquidity. In the midst of this, Bora will launch the first official wallet for the project in Q3.
Strong performance has seen Bora (BORA) defy the trend of the broader crypto market. In a week where most cryptos are down double digits, Bora has gained more than 17%, with its price rising from $0.38 to $0.4914. In the last two weeks, the price of Bora has jumped by more than 75%.
Bora is retaining gains of 1.4% over the last 24 hours and now trades at $0.432. According to CoinMarketCap, Bora is the 100th largest cryptocurrency, with a market cap of $372 million.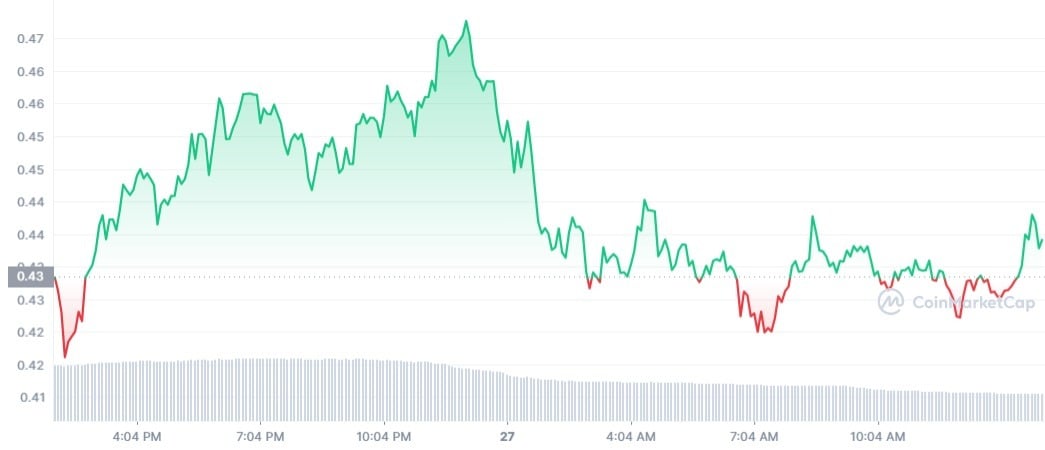 Despite its recent gains, the macro-economic factors have taken their toll on Bora like the rest of the crypto market.
Bora's current price is a far cry from its $1.66 all-time high recorded in November 2021.
Bora is in its early stages, with a small community, with people only just discovering the project. However, the growing community of Bora is bullish about the future of the project and remains committed to seeing Bora grow.
The popular trader and developer of CryptosBulls, @DCA_Cryptoz has advised investors to;
Nazrul Islam Nafis has this to say about the Bora project;
Fantastic project with great potential. The team's dedication and ingenuity with excellent fan support will make this the envy of the crypto world. Glad to be part.@nazrul2286@munnavhai9@mamun2286

— Nazrul Islam Nafis (@nafis22860) May 27, 2022
Hoping to see Bora grow, Vanderlei Costa has shared her ideas about Bora with Elon Musk and Yishan, the founder of Terraformation.
That's right, taking the opportunity I want to present a new gem to CRYPTO SWAP, an innovative project with a lot of potential that is in pinksale, bora meet….

— Vanderlei Costa (@deco20202) April 15, 2022
Being initially built on Ethereum, the pioneer defi ecosystem, Bora set out to solve most of the problems inherent in the Ethereum network. When the Bora Chain fully embraces defi and dApp functionalities, it hopes to compete with the likes of Ethereum and the Binance Smart Chain as the top defi blockchain.