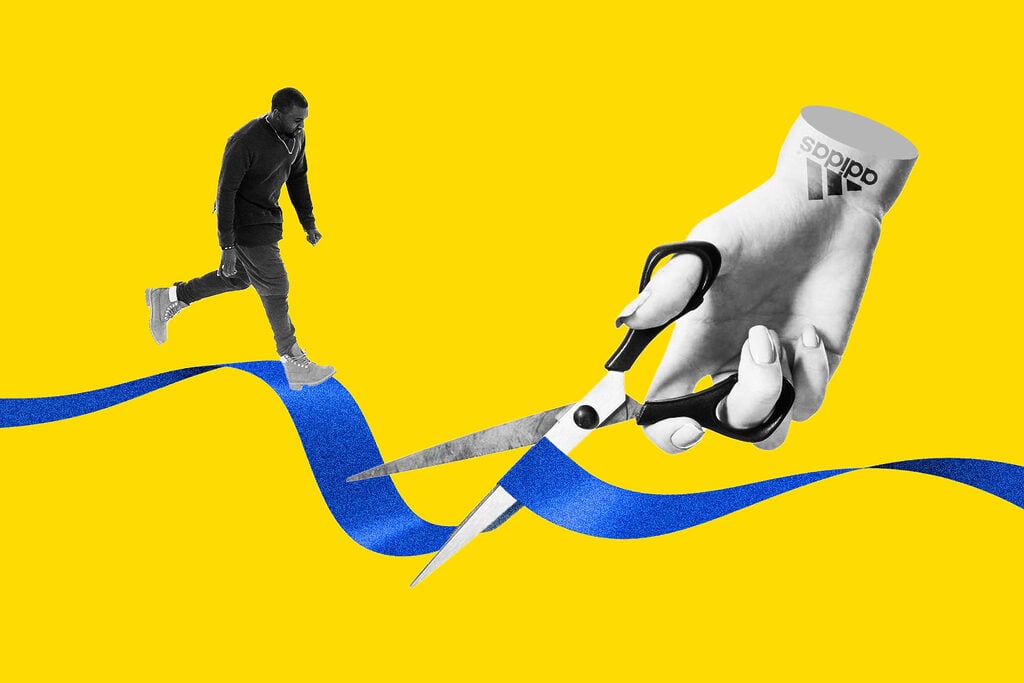 Adidas, one of the world's leading streetwear and sportswear brands, has officially cut the controversial hip hop artist Kanye West from his multi-million sponsorship deal with them. West, also known as Ye, had a wild month overall, having been thrown out of JP Morgan while wearing a Satoshi Nakamoto hat. In the official public announcement, the fashion powerhouse confirmed that "Adidas will stop the Adidas Yeezy business with immediate effect."
Adidas has cut ties with Kanye West

"The company has taken the decision to terminate the partnership with Ye immediately, end production of Yeezy branded products and stop all payments to Ye and his companies. Adidas will stop the Adidas Yeezy business with immediate effect." pic.twitter.com/4sLtc7bEwO

— Dexerto (@Dexerto) October 25, 2022
Kanye West's Ties With The Crypto World
Ye rocking the Satoshi Nakamoto hat was no coincidence. The mysterious founder of BTC has gone with the wind, putting the real meaning behind decentralization in the top crypto asset. The antisemitism controversy has led to Ye losing access to his Twitter and Instagram accounts, and not for the first time.
Earlier this month, West was day banned from Twitter and Instagram. Then he shared a pic with the IT mogul Mark Zuckerberg, implying the two were friends. As if that wasn't enough, Elon 'The Dogefather' Musk penned a warm welcome back message to Ye on October 8th, 2022.
Welcome back to Twitter, my friend!

— Elon Musk (@elonmusk) October 8, 2022
As the ruthless bears are slowly backing off, the top crypto asset BTC is enjoying a 7% daily increase. At press time, the founding cryptocurrency trades at $20,665.31, according to CoinGecko. Furthermore, the latest price movement inspired a 10% growth for BTC in monthly terms.
As the Crypto Fear & Greed Index shows 33, which is marginally above the numbers seen in the last two months, the bullish sentiment is likely to provide more opportunities for retail adoption.
With Ye agreeing to buy the crypto-friendly Parler, it is highly likely that Kanye will drop an NFT collection, as he filed documents for 17 NFT trademarks back in June. Even though the scandalous star publicly denounced NFTs earlier this year, Ye might still follow Donald Trump's example. The former president used Parler to hand out 250 Trumpian NFTs to his supporters.
Kanye fans have that crypto bro NFT kind of faith in this man https://t.co/QNws1QjRZH

— Jameson (@Blueninja658) October 26, 2022
Some crypto enthusiasts believe Ye's switch to a crypto-friendly approach is just a publicity stunt.
BTC is still down by 67.5% if compared to its market price a year ago.
George Floyd's family slapped Ye with a $250M lawsuit for spreading false information on the highly publicized murder case.
Kanye's recent controversy has opened up several important social issues. The public on Twitter contemplate if Kanye West would have been treated the same by JP Morgan if he was, for instance, Bill Gates. Indeed, this showcases the lack of objectivity in the central banking system.