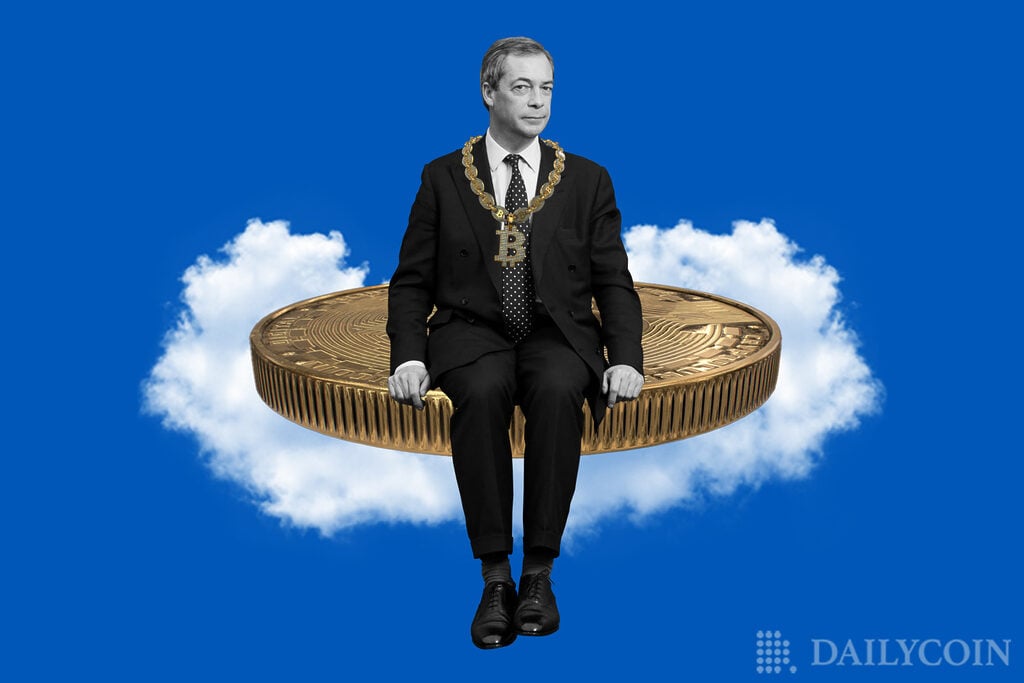 Nigel Farage, a previous veteran member of the European Parliament, has spoken about the benefits of Bitcoin, stating it provides "absolute freedom."
Farage believes lawmakers are under-informed about Bitcoin, and insists that educating them about the digital asset is essential.
In response to the introduction of CBDCs, Nigel Farage raised his concerns, but encouraged Bitcoin enthusiasts to remain optimistic.
Former Member of the European Parliament Nigel Farage recently went on record to make acclamatory statements about Bitcoin. During a panel at Bitcoin Amsterdam on Thursday, October 14th, Farage emphasized that Bitcoin brings "absolute freedom", claiming that Bitcoin is capable of aiding individuals in taking charge of their financial lives.
Farage dove into the discussion after fellow panelist Peter McCormack asked the British career politician why he was in attendance at a Bitcoin conference.
In his words, the veteran politician argued that, to some extent, the government couldn't dictate what he could do with Bitcoin, and, as a result, Bitcoin represents total freedom.
Lawmakers Need Background Knowledge
Farage encouraged Bitcoin enthusiasts to help lawmakers understand what Bitcoin is all about. He claims that politicians having a better understanding of the leading digital asset would help usher in favorable regulations. Expanding on this opinion, Farage said:
"The level of knowledge of those who will be regulating [Bitcoin] is very, very low. Lawmakers need some real education, and that's not an easy thing to do."
The former member of the European Parliament, therefore, asserts that orientation among Parliamentarians regarding Bitcoin is of the utmost importance, though he conceded that such an initiative would not be easy to achieve.
The politician referenced his earlier career as a lawmaker, revealing that those in charge of impactful decisions often debated issues they lacked a strong basis of background knowledge on—emphasizing all the more why Farage believes there to be an urgent need to educate regulators about Bitcoin.
Farage's Opinion on CBDCs and the Need to Work with Regulators
The British broadcast panelist went on to opine that, to his mind, the introduction of a Central Bank Digital Currency (CBDC) is needless, claiming that regulators' "lack of proper understanding" of Bitcoin is the main reason for the uneeded development of CBDCs.
Expressing his fear about the invention of CBDCs, Farage claimed that it would allow governments to take away people's economic freedom.
Despite registering his concerns, Farage quickly encouraged Bitcoin enthusiasts to stay optimistic, referring to a popular quote by Indian anti-colonial activist Mahatma Gandhi:
"First, they laugh at you, then they fight you, and then you win. You know you're winning when they really start getting nasty."
Meanwhile, Farage echoed the emerging belief in cryptocurrency that a close relationship with regulators could ultimately lead to beneficial industry stipulations, and spoke about how working with, rather than against lawmakers could stand to influence a favorable atmosphere for cryptocurrency in America, South America, and the United Kingdom.
With well researched regulations, Bitcoin could surely reach its full potential, Nigel Farage asserted.
It is still difficult to determine the intrinsic value of a cryptocurrency such as Bitcoin outside of its basic worth to investors at any given time. For this reason, holders are often left vulnerable to huge price swings, dramatically increasing the risk involved.