The value of Bitcoin dropped to $33.25K today, declining to its lowest level in 10 months. The dominant crypto has been on a consistent downtrend since the end of March, since which time it has lost nearly 30% of its value and is sits 51.2% shy of its all-time high (ATH) of $69,044.77, attained last November.
Shadowing the Stock Market
On Friday, May 5th, one of Bitcoin's largest downswings since January was witnessed. The leading digital currency by declined around 10% from $39.75K, slipping to $35.87K within a single day. The plummet coincided with that of the stock market indexes, which plunged in reaction to the historic decision by the United States FED to increase interest rates by 0.5 percentage points.
The harsh stock market nosedive triggered one of the biggest cryptocurrency price drops in three months, resulting in the market value of the cryptocurrency market at large to shrink 7.5% to $1.66 trillion. As the sell-off continued over the weekend, the crypto market cap declined by a further 9.6%, and is currently $1.5 trillion, according to CoinMarketCap. 
Bitcoin remains the dominant cryptocurrency, however. With a $627.5 billion market cap, it accounts for almost one-third of the cryptocurrency market's entire value.  
Fear and Greed Index at Extreme Fear
As the price of Bitcoin experienced one of its deepest lows of the past 10 months, general investor sentiment declined accordingly. The 'Crypto Fear and Greed Index' fell to 11 points and is currently deep in 'Extreme Fear' territory.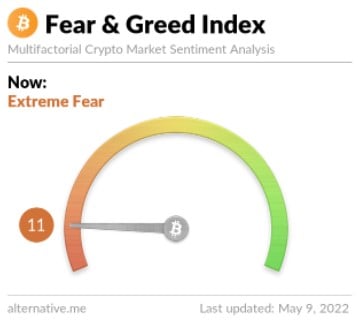 The sentiment of Bitcoin investors has not been at such low extreme fear levels since the end of January. At the time the leading crypto has been testing the lows of $33.5K due to sharp market volatility.
At the same time, Bitcoin's accumulation trend score remains unshaken, and has been so since January, says cryptocurrency analytics firm Glassnode. According to them, Bitcoin accumulation continues to hold steady despite BTC's correlation to traditional stock markets and the extreme risks and uncertainties that come with it.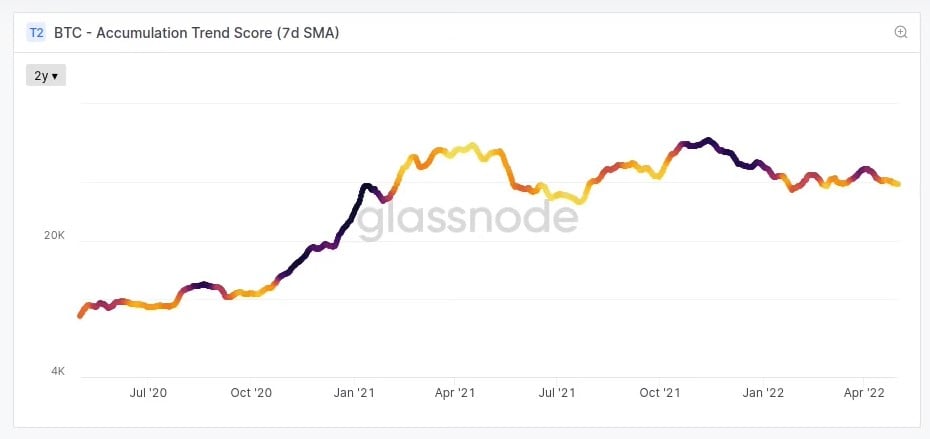 In related news, the percentage of Bitcoin's circulating supply held on crypto exchanges have diminished to their lowest levels since 2018, when the market entered the first "crypto winter" following the enormous hype of the 2017 rally. This means that there are fewer bitcoins available for sale.
Considering Bitcoin's limited supply of 21 million coins, 19.035 million of which have already been mined, such scarcity on exchanges could be considered a catalyst for a potential future price rally.