Binance, the world's largest crypto exchange by trading volume, has announced changes to its voluntary burn mechanism of Terra Luna Classic (LUNC) trading fees, reducing LUNC burning by 50%. 
Binance Makes Changes to LUNC Burn 
In an update made on Wednesday, Binance revealed that as part of the changes to the LUNC burn, it will now burn 50% of all LUNC spot and margin trading fees as opposed to the previous 100%, effective December 28th.
Other changes will see Binance delay the next batch of LUNC burns to March 1st, 2023, from its previous date of January 1st, 2023. According to Binance, the delay is part of token re-mints in response to Terra Classic proposals 10983 and 11111. 
Binance said it had reached out to the Terra Grants Foundation to make necessary changes. Binance will create a new burn wallet to prevent the re-minting of LUNC tokens.
The exchange will also look to have its LUNC wallet whitelisted to prevent tax when transferring between these wallets. However, Binance may stop LUNC burning entirely if the changes are not made. 
LUNC Reacts to the Changes
The Binance announcement comes just after LUNC rallied nearly 50% in the last few days due to a breakout above the three-month descending channel.  
The seven-day price chart for Terra Classic (LUNC). Source: CoinMarketCap
Reacting to the changes, the price of LUNC has plunged by 13% in the last 24 hours and now trades at $0.0001606.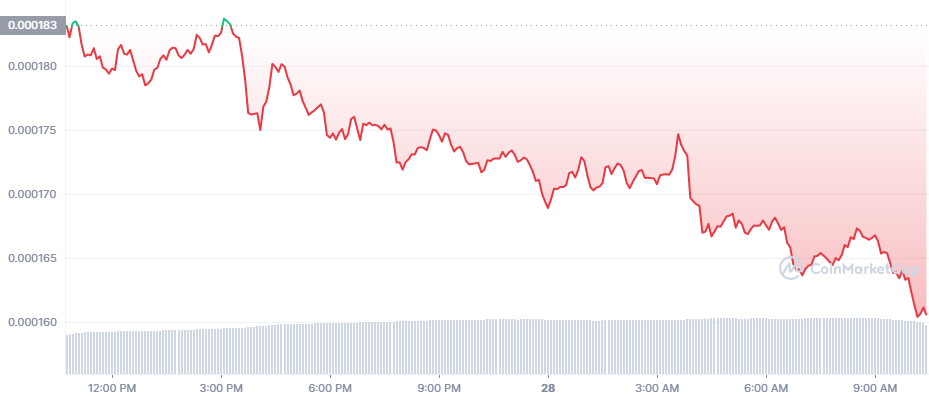 The 24-hour price chart for Terra Classic (LUNC). Source: CoinMarketCap
Since supporting LUNC burn in September, Binance has become the biggest LUNC burner, with more than 20 billion burnt or over 50% overall.
The change to the Binance LUNC burn mechanism was implemented to continue supporting the Terra Classic community in decreasing the LUNC tokens supply.