New layer-1 network Aptos was launched on October 17th, promising throughputs of up to 160,000 transactions per second.
Since its launch, 11 decentralized finance protocols have launched on Aptos, with its TVL climbing to $35 million.
Non-fungible tokens are also growing rapidly on the Aptos network, with the Topaz NFT marketplace completing over $5.46 million in sales in one week.
The native token of Aptos (APT) has struggled to keep up with the growth pace, peaking at $10.25, before falling down to $8.15.
Aptos is one of the newest Layer-1 blockchain projects, with its mainnet, Autumn, only launching on October 17th. 
Aptos introduces a new unique Move programming language (originally created for Diem) that promises new features, including a parallel execution engine, high-level security features, and low transaction costs.
The Aptos blockchain can theoretically reach 160,000 transactions per second (TPS) while maintaining security and reliability. While still in its testnet phase, Aptos reportedly handled millions of transactions and thousands of nodes.
Despite being a new project, Aptos has already been considered a top competitor of the more established Ethereum and Solana. So, what are the reasons behind the instant success of the Aptos Network?
Social Media: Website | Twitter| GitHub | Discord | Medium | LinkedIn
Recent Developments and Future Events
Aptos had one of the biggest launches in crypto history, as the Aptos Foundation gave out over 20 million APT tokens to the early users of its network. This was worth roughly $154,000,000 at the time of the airdrop.
In the ten days of its mainnet being active, Aptos has racked up a flurry of achievements. Two days after its launch, the Aptos Names Service (ANS) was launched, allowing users to choose a human-readable .apt name for their Aptos wallet address instead of their public key.
According to the decentralized finance tracker, DeFiLlama, 11 protocols have been deployed on the Aptos network in less than two weeks. PancakeSwap, AUX exchange, LiquidSwap, Ditto, AnimeSwap, and Aries Market are among the top protocols launched on Aptos.
The total value locked (TVL) in Aptos has jumped by +614% in the last seven days to hit over $35 million. AUX Swap and LiquidSwap are the biggest contributors to Aptos' TVL, with $21.5 and $12.5 million, respectively.
Keeping up with the hype, on October 22nd, Josh Lind, an Aptos developer reported that the network had recorded 2,500 transactions pre-second (TPS). At the time of this writing, approximately 16 million transactions have been completed on the Aptos network at an average speed of 15 TPS.
Non-fungible tokens (NFTs) have been another area where Aptos has excelled. Aptos' NFT marketplace Topaz launched on October 18th. In the first week of trading, Topaz amassed $5.46 million in NFT sales.
AdaSwap, the next-generation decentralized exchange (DEX) for Cardano has announced that its first cross-chain network will be Aptos. AdaSwap is expected to launch on the 28th of November.
Aptos (APT) has endured a mixed reception from traders since its launch. Starting at $8.5, its price fell to a low of $6.5 as some traders dumped the token immediately after its launch.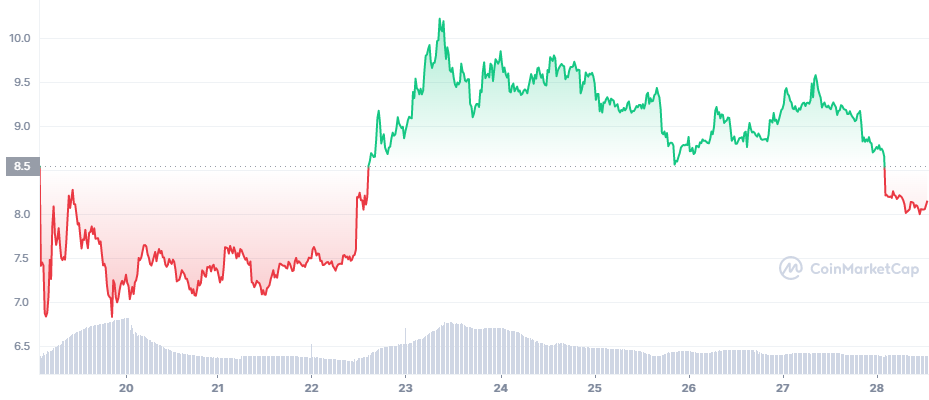 However, between October 23rd and 24th, APT rallied by more than 40% to set its all-time high at $10.25. APT proceeded to trade around the $9 range before experiencing another major dip in price.
Over the last 24 hours, the price of APT has plunged by more than 12%, falling from $9.29 to as low as $7.97. Now trading at $8.15, Aptos is ranked as the 50th largest crypto, with a market cap of $1.06 billion.
Of the one billion APT minted, 51% were distributed to community members, 19% to core developers, 16% to Aptos Foundation, and 13% to private investors.
The allocation of the APT token by the Aptos Foundation raised a Twitter backlash, with critics linking the low selling pressure of APT to the fairly small airdrop.
The Aptos Foundation announced in its whitepaper that the blockchain will be owned, operated, and governed by a broad and diverse community. This was highlighted by the airdropping of tokens to early users of the testnet.
This approach helped Aptos build a strong community, even before the mainnet was officially launched. The belief of members is mirrored in the comments of @victor_robin19:
Due to promising advancements like their parallel execution engine, Block-STM, developers working on Aptos' testnet have already seen TPS pushes of 160,000. This makes #Aptos the much-anticipated network that will bring new tech and scalability benefits to #Web3. @ankr #ANKR pic.twitter.com/rAEkukAm3c

— OVR (@victor_robin19) October 23, 2022
Highlighting the move from Solana to Aptos, BlueMove NFT tweeted:
Sold out within 30s. What a way to welcome the first Solana NFTs Collection to Aptos!

We'll keep supporting more NFTs Collection from Solana to join Aptos Autumn!

Join us!

P/S: BigFoot Town has 0% royalties, but we support creators with a royalty fee to develop their products! pic.twitter.com/wW54ZyW4eD

— BlueMove (@BlueMoveNFT) October 21, 2022
Remarking on the reason for the switch, @NFT_World_News Tweeted:
1) The Aptos $APT

The Hottest Blockchain right now

Layer 1 Blockchain

It promises to increase scalability, reliability, security, and usability

Built with a Rust-based programming language called Move@AptosFoundation
Created by Diem developers (from Meta)#Aptos

— NWN (@NFT_World_News) October 21, 2022
Aptos is a new, Layer-1 blockchain that is heavily backed by a number of prominent venture capital firms. Despite its rocky start, Aptos is already showing signs of why it was hugely hyped. If the Aptos Foundation fully optimizes the blockchain to increase scalability, reliability, security, and usability, Aptos could become a top blockchain contender.