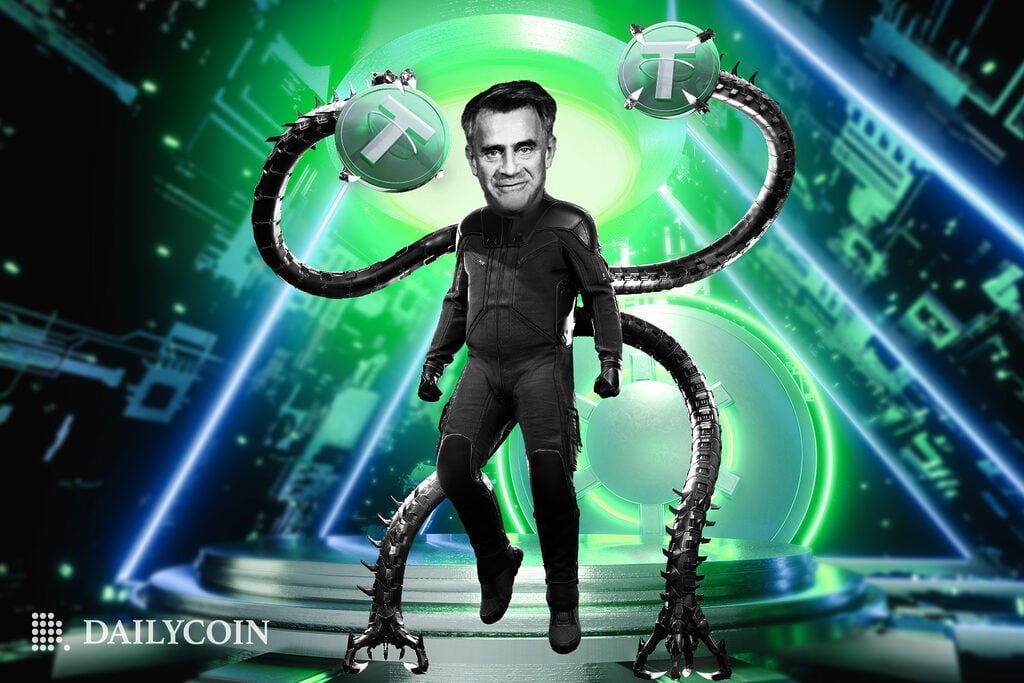 One of Tether's biggest shareholders is a mega-donor to UK politicians, including Nigel Farage and Boris Johnson.  
Following multi-million donations, the UK government announced plans to recognize stablecoins as payments. 
Investigations into Tether revealed that just four people owned 84% of the company in 2018.
Tether's largest shareholder, former plastic surgeon Giancarlo Devasini, owned 43% of the company. 
Tether Holdings Ltd. operates the $68 billion stablecoin Tether, whose trading volume is larger than that of Bitcoin. Yet, Tether is a private company with little information about its owners. 
A recent report by Wall Street Journal uncovered documents revealing that, as of 2018, just four people owned 86% of the shares of Tether. Its owners are a disparate group of entrepreneurs with little experience in finance. 
One is a British political mega-donor who gave £1 million to former U.K. Prime Minister Boris Johnson. 
The British-Thai businessman Christopher Harborne, aka Chakrit Sakuankrit, holds the record for the largest donation to an individual politician in British history.
He acquired many Tether shares as compensation for the funds he lost in the Bitfinex hack. He bought more, and by 2018 he owned about 12% of Tether shares. 
Shortly after buying a stake in Tether, Harborne became active in British politics. In 2019 and 2020, he donated £13.7 million to Nigel Farage's Brexit Party. 
Harborne has since started donating more to UK's ruling Conservative Party, including Johnson's £1 million donation. 
Since then, the UK government has unveiled a plan to recognize stablecoins like Tether as valid forms of payment. According to the government, the move is part of a larger effort to make the "UK a global crypto-asset technology hub." 
Tether's Major Shareholders Are Bitfinex Executives, Plastic Surgeon
In 2018, Tether's biggest shareholder, Giancarlo Devasini, controlled 43% of the company. Devasini is a former plastic surgeon who turned to electronics importing and crypto. He is also the CFO of Bitfinex, a crypto exchange tightly intertwined with Tether. 
Devasini co-founded Tether in 2014 with Brock Pierce, a former child actor turned crypto entrepreneur. However, Pierce soon left the company and sold his shares. 
Other major Tether shareholders include Jean-Louis van der Velde, CEO of both Tether and Bitfinex, and Stuart Hoegner, general counsel to both companies. Hoegner goes by @bitcoinlawyer on Twitter. These two executives, who work for Tether and crypto exchange Bitfinex, own 15% of the company each.
The documents about Tether's ownership structure come from investigations by the New York Attorney General's Office and the Commodity Futures Trading Commission into Tether. 
Following these probes, Tether settled with the agencies for $61 million. In addition to paying a fine, Tether also had to disclose its reserves periodically. 
Ownership in private companies is usually not disclosed to the public. 
Crypto billionaires that donate billions to politicians can gain significant influence. For example, FTX's Sam Bankman-Fried did so before his exchange collapsed.