Since their inception more than a decade ago, cryptocurrencies have become more than just a fad. They have changed the financial system globally and become the most sought-after investment the world has ever seen. As of mid-October 2022, the total global crypto market capitalization stands at $994 billion.
Today, investors in cryptocurrencies are raking in profits and diversifying their portfolios. But before they arrived at this enviable position, they had to do ample research on multiple crypto assets and the entire crypto market as a whole. The old expression "knowledge is power" rings as true for crypto as it does everywhere else.
Investing in cryptocurrency is quite a risky venture, particularly so if you have no idea how to research and analyze the market. But with the right cryptanalysis tools, you can gather the information you need to make an informed investment decision.  
Whether you are a beginner or have been investing for years, cryptanalysis tools can help you identify growing networks, discover hidden gems, find exhilarating trading opportunities, reduce your risk, and increase your chances of staying ahead of the game. That's why we've taken the time to ensure your crypto game is on point by curating 10 of the best analysis tools out there. Let's dive right in.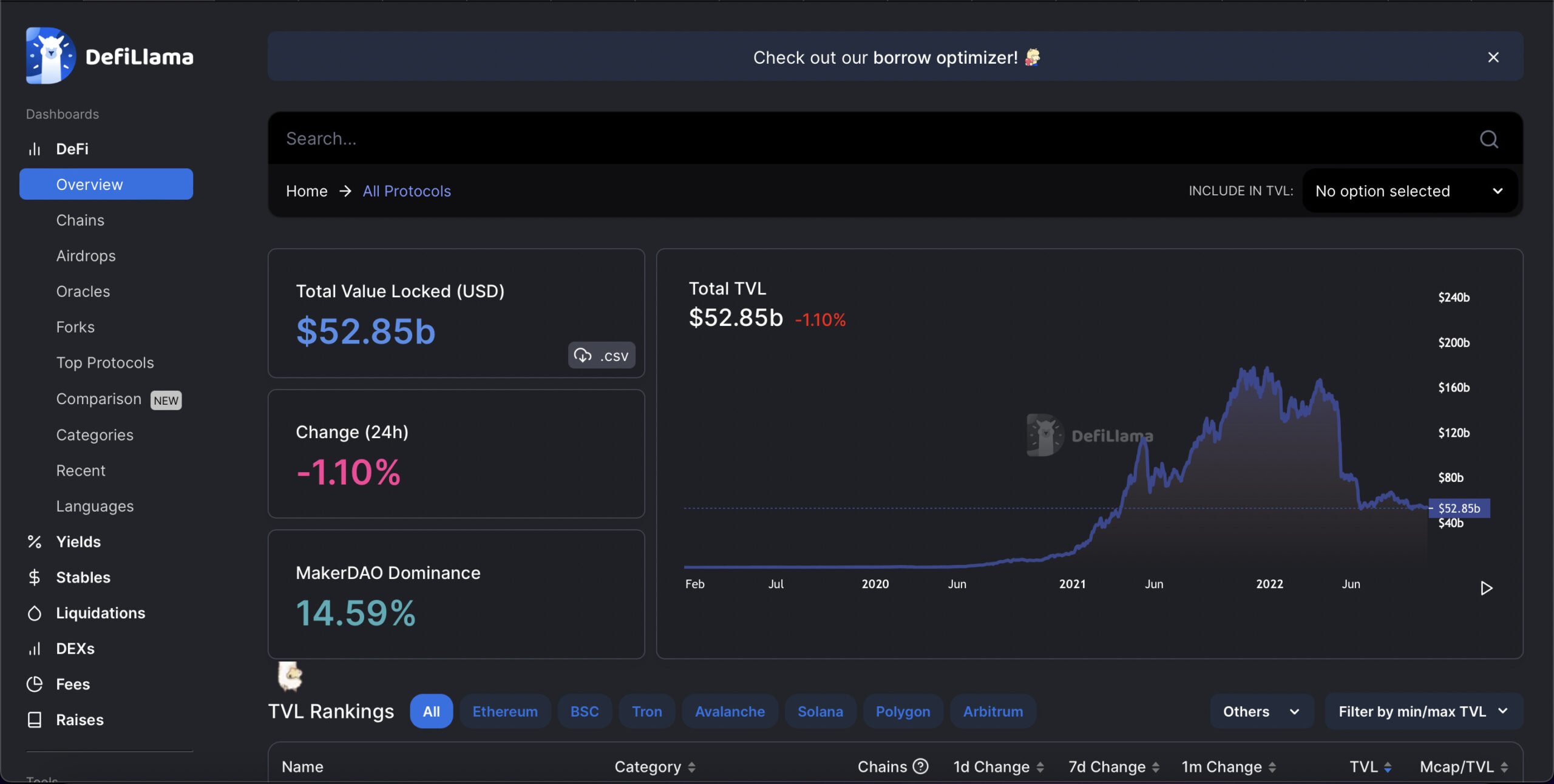 DefiLlama is a decentralized analytics dashboard that tracks DeFi platforms and their dApps. It uses total locked value (TVL) to show which DeFi protocols are the largest and how they develop over time. This is shown to DeFi users for free.
It provides highly intuitive dashboards, making browsing TVL by protocol, airdrops, and oracles simple. It also offers powerful filters that allows you to explore the platform and test what valuable insights you can extrapolate. 
The site acts as a one-stop protocol where users can keep track of all the popular blockchains and the DeFi protocols, dApps, etc. associated with them. DeFiLlama tracks over 1,750 DeFi protocols and over 130 different blockchains.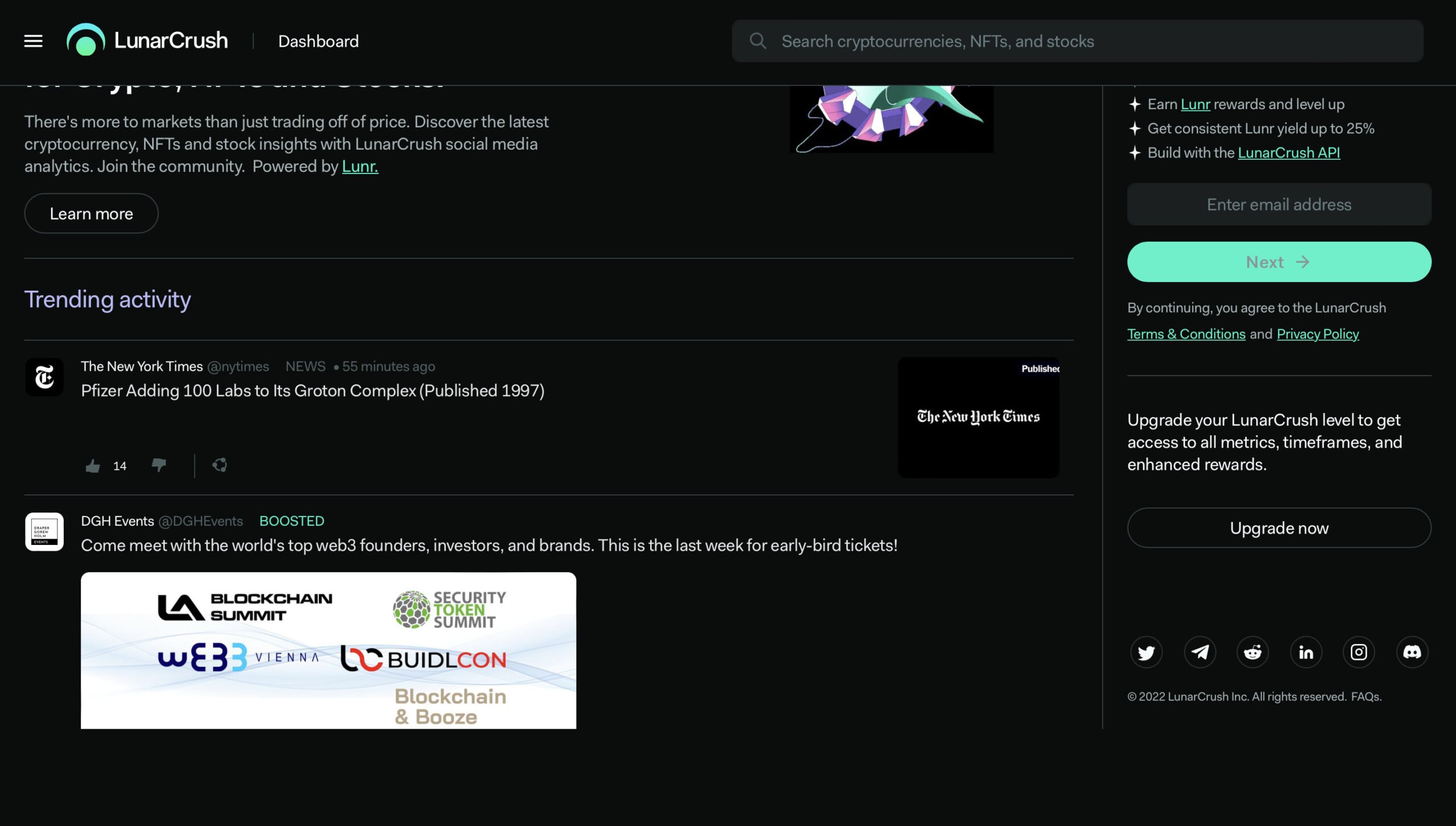 Headquartered in the Greater Los Angeles Area, LunarCrush is a social intelligence platform that analyzes data from social networks to gauge market activity, transaction data, and investor sentiment. 
The platform provides a suite of tools designed to improve cryptocurrency research for investors, exchanges, and funds, built purely around providing community insights. 
LunarCrush provides real-time insight into who the major influencers are and lets you track the individuals, coins, and exchanges that interest you most. It helps simplify crypto investing by reducing research time, simplifying social intelligence, and ultimately provides a more complete market view.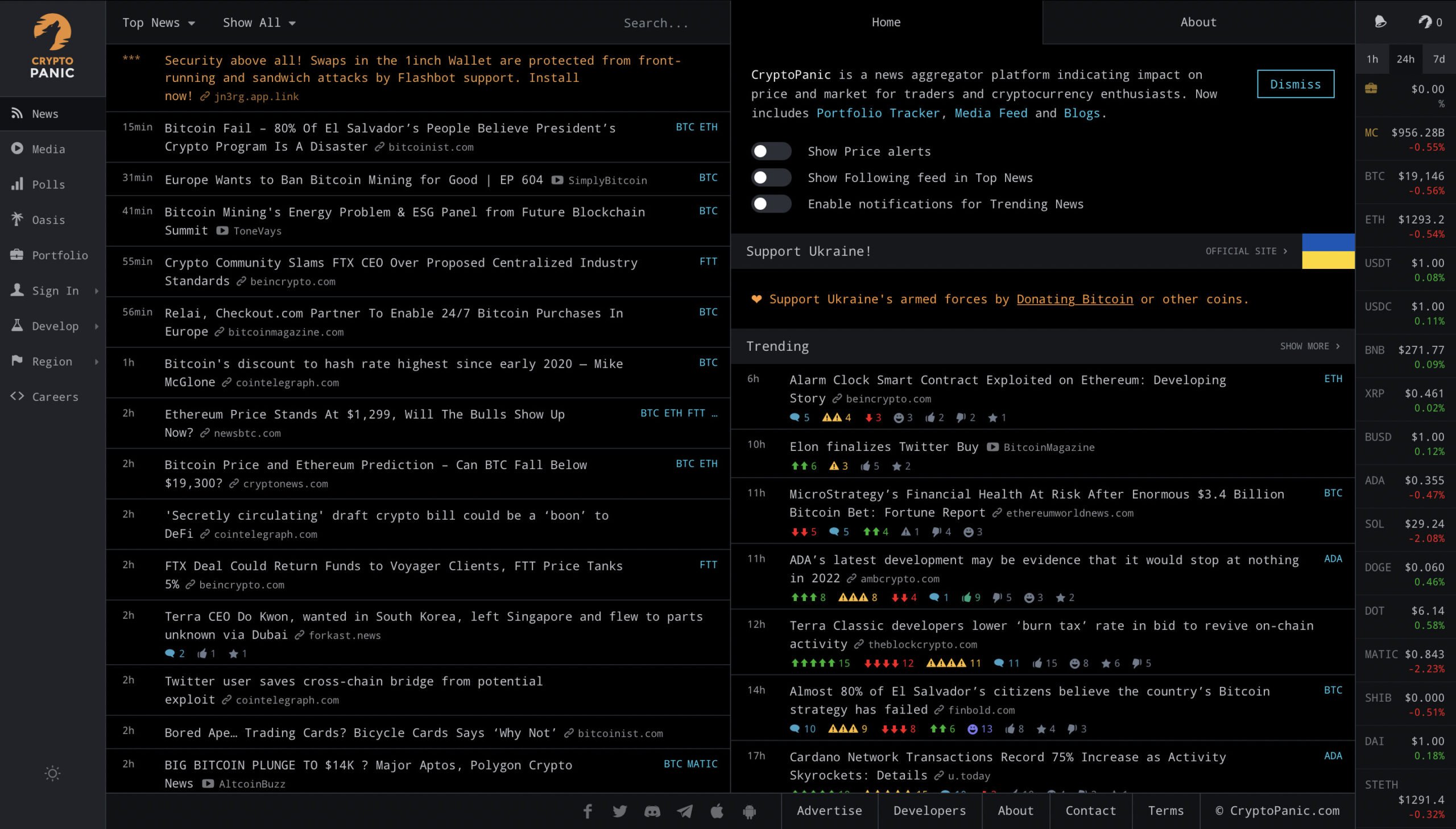 CryptoPanic is a crypto news aggregator platform that lets you find the exact type of news you are searching for at any time. Whether you're looking for trending coins, bearish signals, or updates on a specific cryptocurrency, you'll find it on CryptoPanic. 
The platform helps users and traders understand price movements for the cryptocurrencies they hold or are trading. Besides news, users also receive an update on prices for major cryptocurrencies. 
CryptoPanic also has a free portfolio monitor that allows you to track your cryptocurrency portfolio, easily accessible from the currency bar. For only $9 a month, or $99 a year, PRO members can get more out of CryptoPanic with extra features and benefits.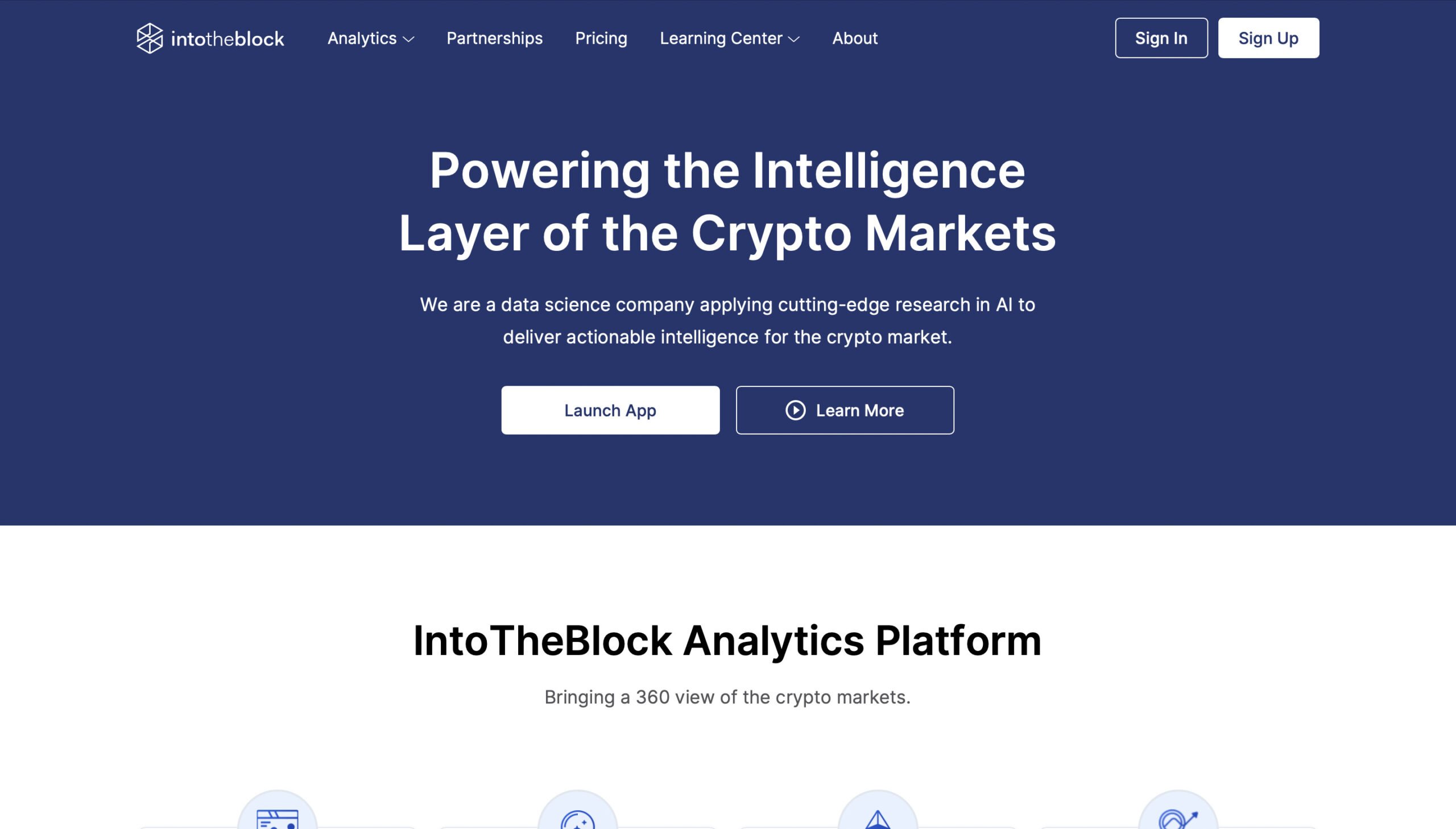 Traders use analysis tools like IntoTheBlock to gain insights and ideas about future market movements. IntoTheBlock is a unique data analytic tool that uses machine learning and advanced statistics to deliver actionable intelligence on crypto assets. 
It provides data that can be utilized by short-term or long-term investors about any crypto asset in the market. The dashboard is easy to use, and once you know how to use the data to make an investment decision, your cryptoanalysis will be faster and more data driven.
IntoTheBlock offers blockchain analytics, price predictions, DeFi analytics, as well as capital markets insights, all on a single subscription plan. You can access all these features for only $10 per month, or $100 per year, which means 17% off.
6. CoinStats Portfolio Tracker
Monitoring your investments is important for you to be aware of what's happening in the market. You need to know how many units of a coin you have and how much it is worth in total. But what else? You need to know the profit/loss percentage you are at; and that's where the crypto portfolio tool, CoinStats, comes in.
CoinStats provides unique insights into users' crypto portfolios. The site offers several features, including transaction analytics, instant notifications, and fast trading. You have access to highly accurate pricing data for more than 8,000 cryptocurrencies. It even offers a heatmap to show the state of the entire crypto market. 
CoinStats offers many powerful features for free, but users can get the most out of the app through a Pro or Premium subscription.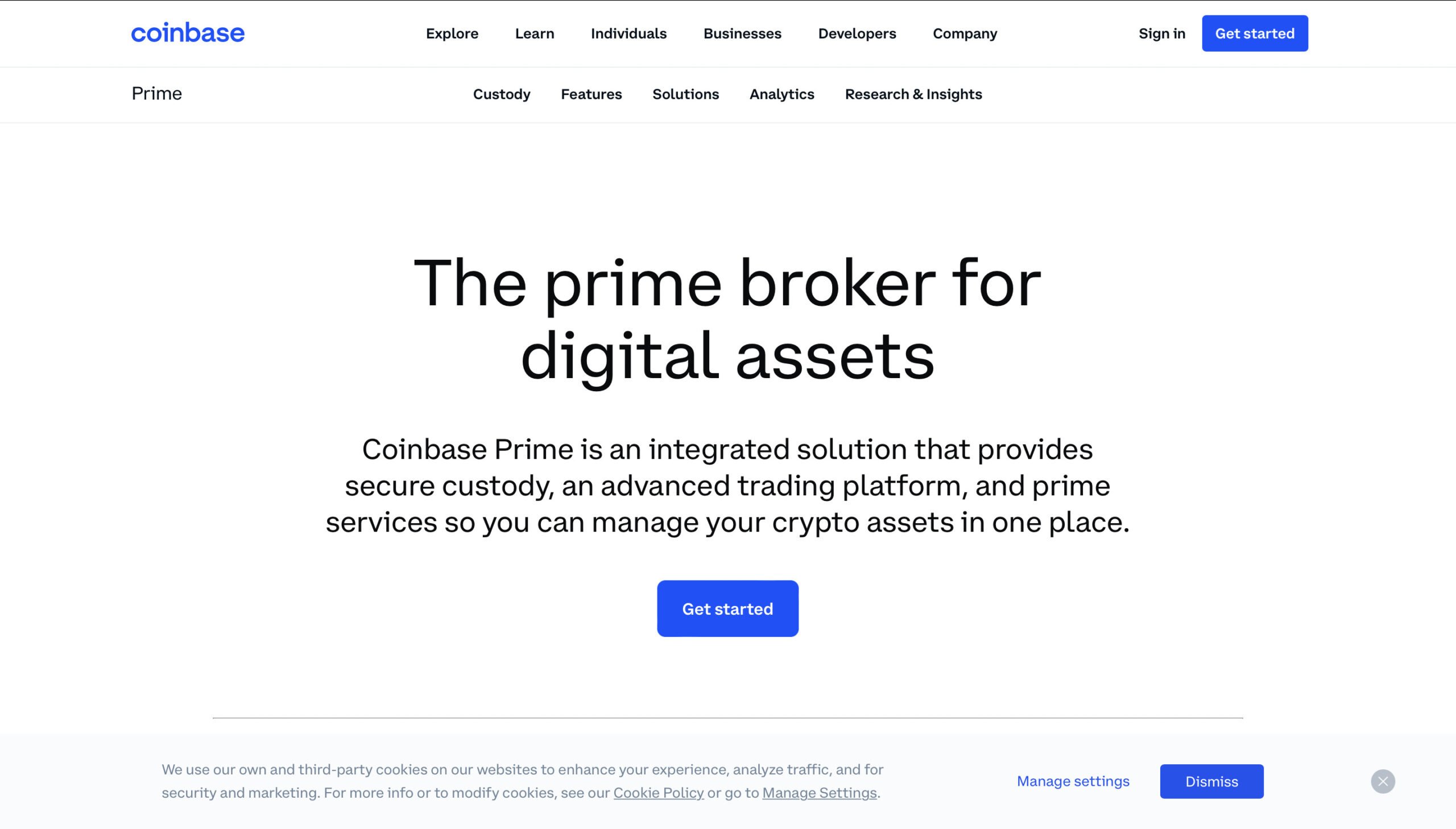 Coinbase Prime is an integrated solution that provides secure custody, an advanced trading platform, and prime services to manage your crypto assets in one place.
It streamlines your crypto processes with a central portfolio management hub. You can trade assets, approve transactions, and view detailed activity histories.
The platform additionally offers a robust trading toolkit that allows you to start a crypto exchange that maximizes your coins' return on investment (ROI). It comes with smart order routing, post-trade transaction analysis capabilities, and advanced algorithms. These tools also allow you to anticipate market trends and make informed investments.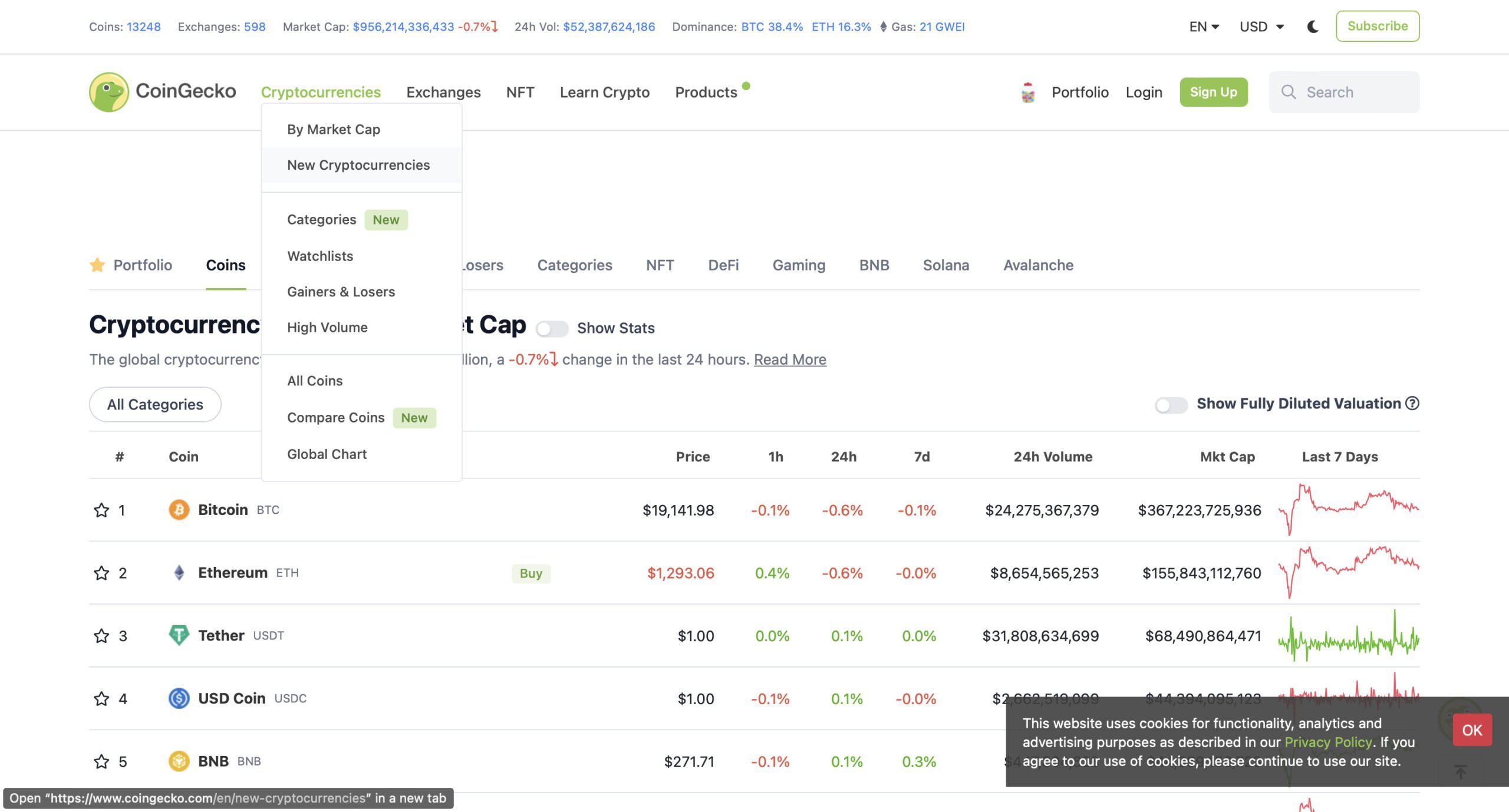 CoinGecko is one of the largest data aggregators that tracks cryptocurrency prices by market cap. You can view live price changes for over 12,000 coins and over 500 crypto exchanges.
CoinGecko not only tracks and measures coins and tokens by market cap and exchanges by trading volume. The platform also offers an in-depth analysis of the crypto market. 
There are tons of other useful features you can capitalize on at no charge to obtain a broad overview of a particular cryptocurrency with CoinGecko. Premium accounts are $41.66 per month, billed annually, and include an ad-free experience and advanced features.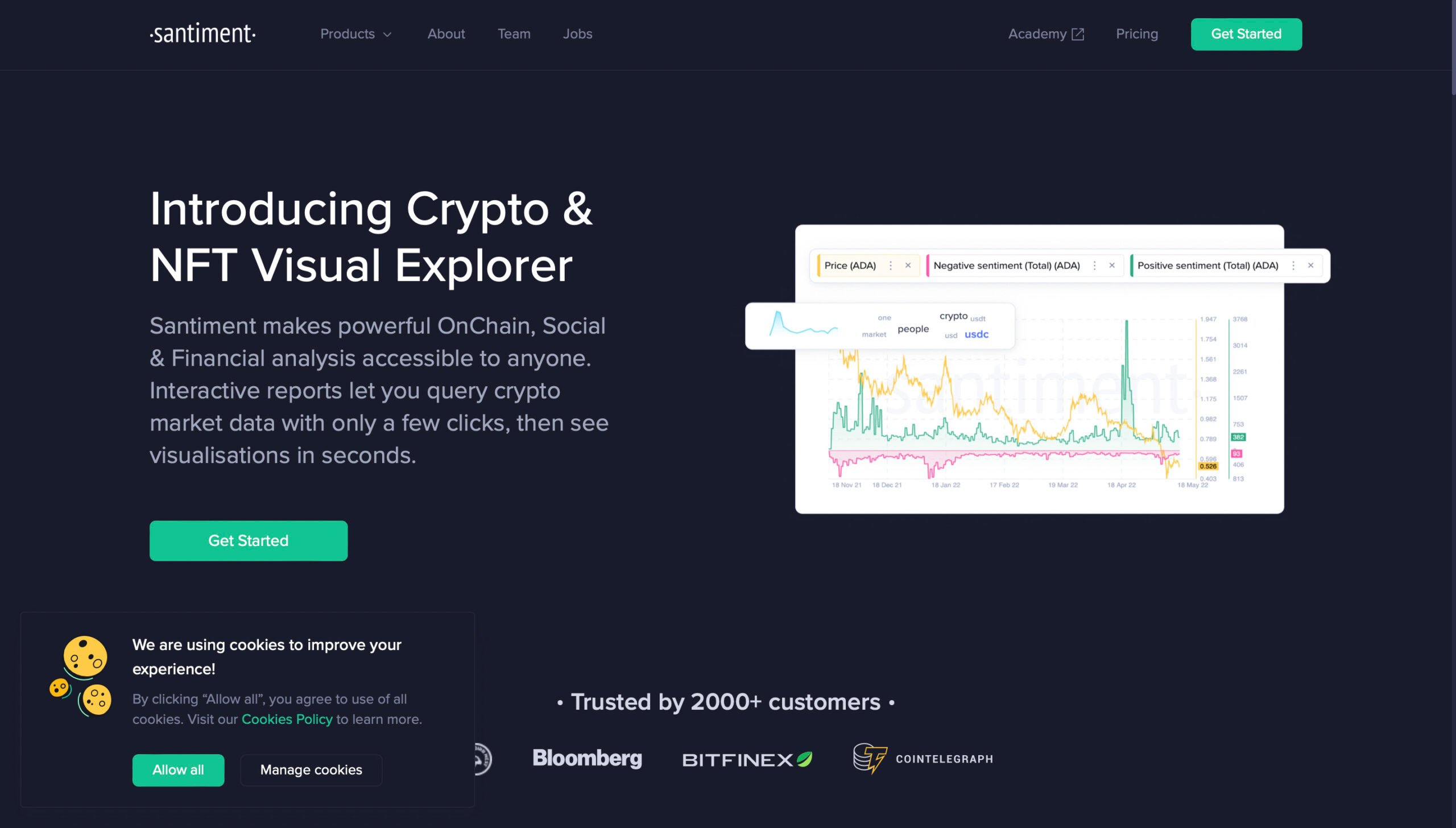 Santiment is another crypto research and analytic tool offering mostly accurate outcomes to crypto investors and traders. It also provides on-chain, social media and financial data on almost 2,000 cryptocurrencies, helping you get a swing of the price movement of any crypto.
The platform also offers fundamental insights and behavioral reports to stay ahead of imminent developments. Moreover, you can set up alerts on Santiment to get updates whenever a coin you're watching gets a surge in social volume.
Whether you are a beginner or not, you can access essential metrics from the flagship platform for $44 a month, paid annually. Its SanAPI account costs $149 a month (paid annually) and offers extra benefits, including additional metrics.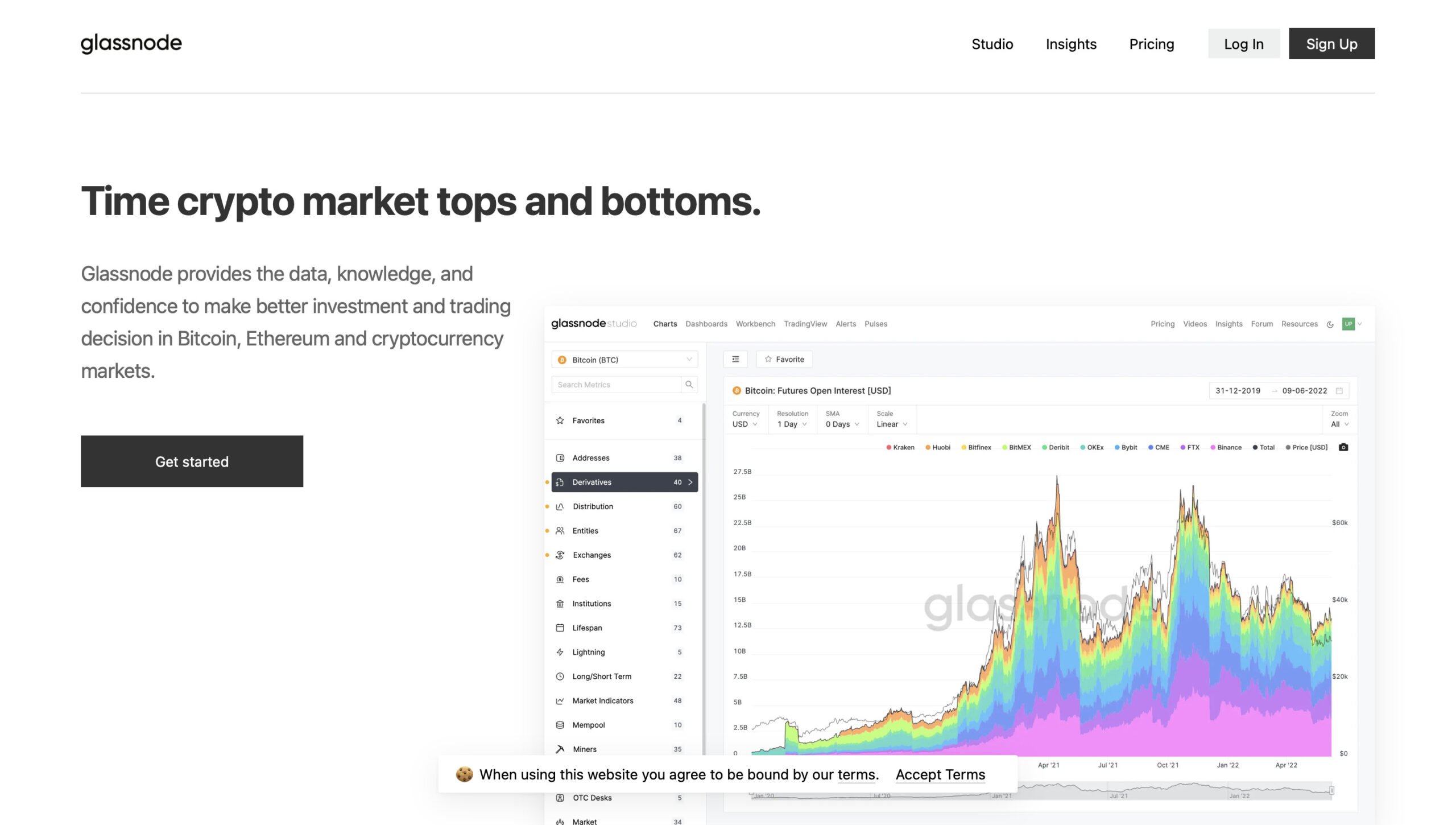 Glassnode Studio is a great on-chain market intelligence platform that offers investors vital data related to any coin. With Glassnode, you can access data and knowledge that will allow you to make better investment and trading decisions in Bitcoin, Ethereum, and the general cryptocurrency markets.
Accordingly, it provides the data to analyze any coin's exchange inflow and outflow. When the number of coins deposited on the exchange has increased, it signifies that more people intend to sell.
Moreover, Glassnode offers free access to "Tier 1" data, which is updated every 24 hours. Annual paid subscriptions are $29 per month for advanced metrics and $799 per month for early access metrics. It's certainly worth it!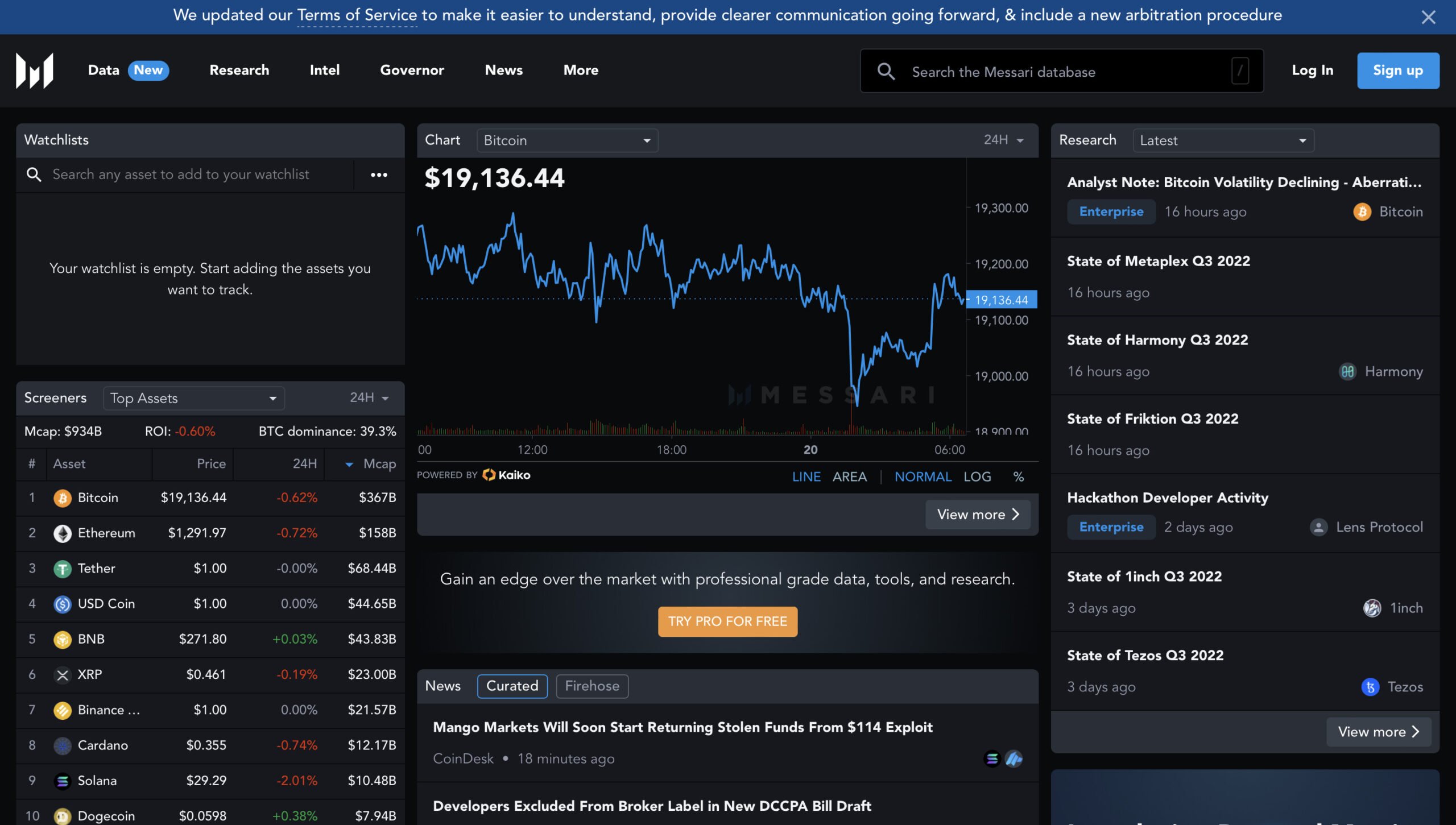 Founded in 2018 by Ryan Selkis, Messari is a cryptocurrency data aggregator with loads of helpful tools to analyze charts. It consequently allows you to make better trading decisions. 
Messari discloses multiple features and aspects of different crypto projects, including tokenomics, treasury information, team members, communication links, and more. The platform has a screener with various filters, such as sector and price, as well as market cap, which you can use to customize your coin research.
You can use Messari for free, but if you want to get the most out of this crypto analysis tool you can upgrade to Messari Pro. It costs $24.99 a month (paid annually), or $29.00 a month with no minimum subscription.
Cryptanalytic tools are to investors what farming equipment is to farmers. They help refine your crypto trading decisions. Before throwing your money into a particular cryptocurrency project, it's especially important that you become familiar with one or more tools. Using the abovementioned tools might be hard at first, but like riding a bike, you'll soon get the hang of it and steady yourself in the crypto game.